This is an archived article and the information in the article may be outdated. Please look at the time stamp on the story to see when it was last updated.
Temperatures are expected to drop to around 0°F tonight.  But due to breezy wind conditions, the temperature will feel significantly colder.  Feels like temperatures will range from -10 to -20°F overnight.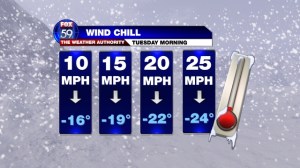 The National Weather Service has issued a Wind Chill Advisory for nearly our entire viewing area.  It begins at 8 p.m. and will continue until 11 a.m. Tuesday.  When feels like temperatures drop to this level, you have to make sure that you are prepared before heading outside.  Frost bite and hypothermia are the two big things that quickly come to mind.  Protect yourself from the cold by wearing a hat and gloves.  Covering as much exposed skin as possible is the best way to think about it.
Cold air will still be in place for Tuesday afternoon along with the breezy conditions.  Feels like temperatures will remain around 0°F for Tuesday afternoon.
Also, don't forget about our furry friends and make sure they spend as little time as possible outside.  Protecting your exposed pipes is another thing to think about.  Furthermore, if your child's school does not go on a delay tomorrow morning, do everything you can to keep them covered up or inside while waiting for the bus.