This is an archived article and the information in the article may be outdated. Please look at the time stamp on the story to see when it was last updated.
A series of fast-moving weather systems continued to pass through the Midwest and the state of Indiana Tuesday afternoon.  These "clipper" systems have been coming a regular intervals since last Friday.  Today marks the 4th one to pass with yet another coming on Thursday.
Scattered snow showers have been directed mainly well north of the city with the past two clippers.  Moderate snow was falling in northern Indiana late Tuesday afternoon with visibility cut to under a half mile at South Bend, Elkhart, Knox and Goshen.  The area of accumulating snow (around 1″) will slide southeast into northwest Ohio this evening.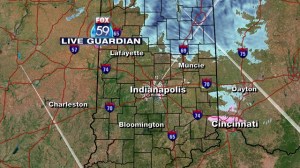 4 FRONTS IN 2 DAYS
The fast-moving systems will bring several wind shifts through Thursday.  Winds changed direction to the southwest just before noon Tuesday.  The first of 4 wind changes through Thursday night.  A shift back to the northwest is expected here in the city again around 10PM as the low exits east.  The chilly air dropping in may be enough to squeeze out a few flurries early tonight. 
The next system will push into the state Thursday.  We expect quiet weather Wednesday with increasing clouds late in the day.  A milder flow of air on a southwest wind arrive before the system passes bringing  rain showers.
WINTER 2012-13 COLDER THAN LAST BUT RUNNING WARM
Its been a chilly open to the month of February.  The low February 1st of 5° was the coldest February open in 17 years.  Meteorological Winter however is in its final month – the month  of December, January and February are the winter months.  Since december 1st 59% of the days have been above normal.  However this winter is running considerably colder than last years.  To date we are 8° colder than last winter and have received over 2 and half times more snow!
FLAT PATTERN BRINGS A WARM UP
The jet stream has been pointed at the the state from the northwest carrying the chill air since last Thursday.  This northwest flow is showing signs of changing beginning mid-week.  A flatter of more "zonal" flow will develop through the weekend.  This is a more west to east flow that bathes the country in more Pacific air.  temperatures are likely to run above normal for much to the next 7 to 10 days.
RESURGENT COLD AIR MID-MONTH
While arctic air is easing now there are signs that mid month arctic air will be returning.  The past 5 day the temperature average nearly 10° below normal.  The next 5 are expected to run 2° warmer and days 6 through 10 at 6° above normal.  Long Range forecast models suggest cold air will once again become dislodged from the arctic pushing normal temperature 10° to 15° below normal.  Stay tuned.