This is an archived article and the information in the article may be outdated. Please look at the time stamp on the story to see when it was last updated.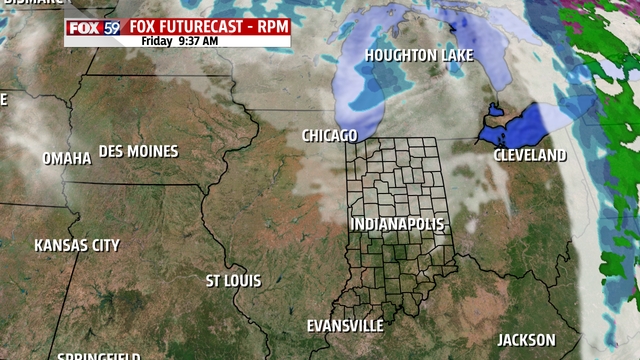 From severe storms to snow all in the course of 18 hours.  Yesterday we hit 62° just ahead of the cold front that slid through.  Temperatures cooled by 23 degrees within 3 hours.  Winds picked up with non-convective wind gusts hitting 44 mph.  A wind advisory remains in effect through 7 p.m. Friday. River flood warnings are also up across the state. Another cold front is sitting off to our north this morning and will be splitting the state through the weekend. This means places north of the front will see temps significantly colder than places located to the south. Snow will also be possible through the weekend along where the front is located.
For today highs have likely already been reached with a high of 36 degrees. It will be a windy day but technically it looks like winds will be just shy of the advisory levels. Expect wind gusts up to 40 mph. I think we see some sunshine as the sun comes up but it won't last. We should cloud up by 10 a.m. and remain cloudy for the rest of the day.
Your extended forecast is looking cold with temperatures in the 20s for highs for most of next work week. This cold air mass will be stable and there won't be a lot of chances to see any snow over the next seven days. I expect only minor if any accumulations over the next week.