This is an archived article and the information in the article may be outdated. Please look at the time stamp on the story to see when it was last updated.
Our next winter storm is taking shape today out to the northwest.  This will easily increase cloud cover across central Indiana during the day and we could even see some isolated pockets of rain or snow as we go into the afternoon hours.  Moisture is well ahead of the main low pressure core and this "overrunning" is what arrives today. 
Some locations will see a mix of rain and snow this afternoon as this first wave comes into Central Indiana.  The extreme northern part of our viewing area will see the best chance for some today with some light snow accumulating overnight.  But realistically, the bulk of our viewing area will mainly see rain or freezing rain tonight into Tuesday morning.  The wintry mix will continue through the noon hour on Tuesday.  It's in this time that we could see a light icing across the metro and locations to the north.  The surface temperature will obviously be the crucial factor as to where the freezing rain occurs tomorrow morning.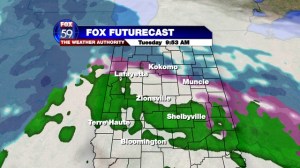 Temperatures start to fall Tuesday afternoon and this will force the wintry mix to change to all snow for the afternoon hours.  This will be our best window for consistent to even heavy snowfall.  Snowfall chances will continue throughout the rest of the evening and into Wednesday morning.   The heaviest snow will fall in the northern part of the state where more than 6″ of snow could fall.  This is also the area that is under a Winter Storm Watch from Tuesday morning through Wednesday morning.  The combination of freezing rain, sleet and snow  roads slick and dangerous at times.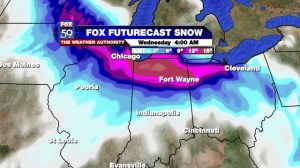 Snowfall numbers are still coming in today, so expect the local snowfall forecast to change as we get the latest information in this afternoon.  But from the number that came in this morning, here is the snowfall projection through Wednesday morning.  The latest map and forecast will debut today at 4 PM.