This is an archived article and the information in the article may be outdated. Please look at the time stamp on the story to see when it was last updated.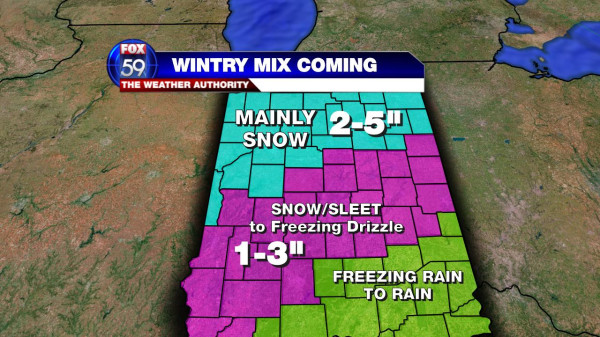 COMPLEX STORM STARTS HERE LATE THURSDAY
The storms track isn't the best, the cold air will be pushed out and the system is arriving in a weakened state – however it will pack a  wintry punch and create some real headaches come Friday morning.  The system will draw warmer, moist air north into the late season arctic air.  Warm air is lighter and will slide up and over the cold, heavier arctic air mass.  This up-side-down atmospheric set up often brings a wintry cocktail of snow, sleet and freezing rain.
Initially as the moist air arrives it will fall in the form of snow.  A heavy, wet snow is expected to spread northwest from southern Indiana late Thursday night.  A period of heavy snow – perhaps at 1″ per hour rate is likely close to midnight Friday.  Currently the late computer runs into the weather center point to a 2″ to 4″ snow then a switch to sleet and freezing drizzle.  The average of 5 computer models for the city is around .33″ and range  from .23″ to .54″ ( If this fell as all snow someone could reach 5.5″ of snow) .  Temperatures are warming aloft and will finally rise at the surface toward sunrise bringing a quick end to the precipitation and a thaw.   However the damage will have been done.  A slick start early Friday is likely before temperatures finally climb above freezing.
A winter weather advisory has now been issued from 7pm tonight through 10am on Friday.  According to the NWS Indianapolis, the potential for a tenth of an inch of ice or maybe even more is the main reason for the advisory. 
The critical temperatures set up means a variety of weather condition over a small geographical location.  It certainly looks like heavier snowfall amounts will favor northwestern counties while freezing rain will glaze the southeastern counties.  This is subject to change early Thursday and this is no means a final take on this system.  Be sure to check back through the day Thursday.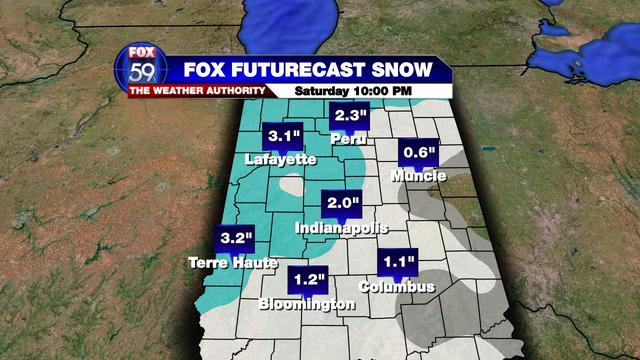 COLDER PATTERN STILL ON TRACK
Looks like an early Spring is not in the cards.  The long advertised stretch of a stormy and colder conclusion to February i s well underway.  Recent cold weather indicators have come into alignment showing the return of a high latitude blocking pattern over the North Atlantic.  Usually a signal that colder air is headed to the easter half of the U.S.