This is an archived article and the information in the article may be outdated. Please look at the time stamp on the story to see when it was last updated.
INDIANAPOLIS, Ind.—A Winter Weather Advisory has been issued for central Indiana beginning at 1 a.m. Tuesday and will remain in effect until 11 a.m. Tuesday.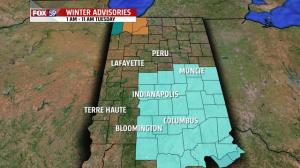 Another round of accumulating snow will begin around midnight and continue overnight, bringing approximately 2 to 4 inches of snowfall, especially from Indianapolis and continuing to the southeast.  Lesser amounts of snow will fall for the rest of our viewing area but enough to make roads slick again on Tuesday morning.
Blowing and drifting of the snowfall will be an issue with winds from the north at 10-22 mph.  It will reduce visibility, making it difficult to travel during the morning rush hour.  Drive slow and use caution!
Wind chills by sunrise Tuesday will be from near zero to -10.
Counties included: Bartholomew, Boone, Brown, Decatur, Delaware, Hamilton, Hancock, Hendricks, Henry, Jackson, Jennings, Johnson, Lawrence, Madison, Marion, Monroe, Morgan, Randolph, Rush, Shelby, Dearborn, Fayette, Franklin, Ohio, Ripley, Switzerland, Union, Wayne
Here's a look at your snowfall forecast for this event: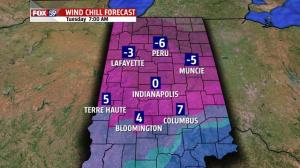 Much colder air will also return on the heels on this snow tonight.  Temperatures will fall into the mid teens for Tuesday morning.  Once you add in the wind, it will feel like the low single digits to below zero across our state.  Unfortunately, temperatures will not improve on Tuesday but actually continue falling throughout the afternoon hours.  We should see temperatures in the single digits by nightfall on Tuesday.
The low by Wednesday morning should drop to -3°F.  This will be the start of our arctic outbreak and it will last for a few days.  The high on Wednesday only reaches 17°F with mostly cloudy skies and a small chance for snow in our northern locations.  Thursday morning will be another start to the day with below zero lows.  Indianapolis should bottom out around -1°.