This is an archived article and the information in the article may be outdated. Please look at the time stamp on the story to see when it was last updated.
INDIANAPOLIS, Ind. --Good Sunday evening!
A Winter Weather Advisory is in effect from 8 a.m. Monday to 2 a.m. Tuesday for cities north of Indianapolis. Accumulating snowfall is likely.
Sunset tonight is at 7:49 p.m. We'll have a cloudy sky overnight as snow begins to work its way into far western and northern Indiana. Temperatures will fall into the upper 20s so it won't be as cold as this morning.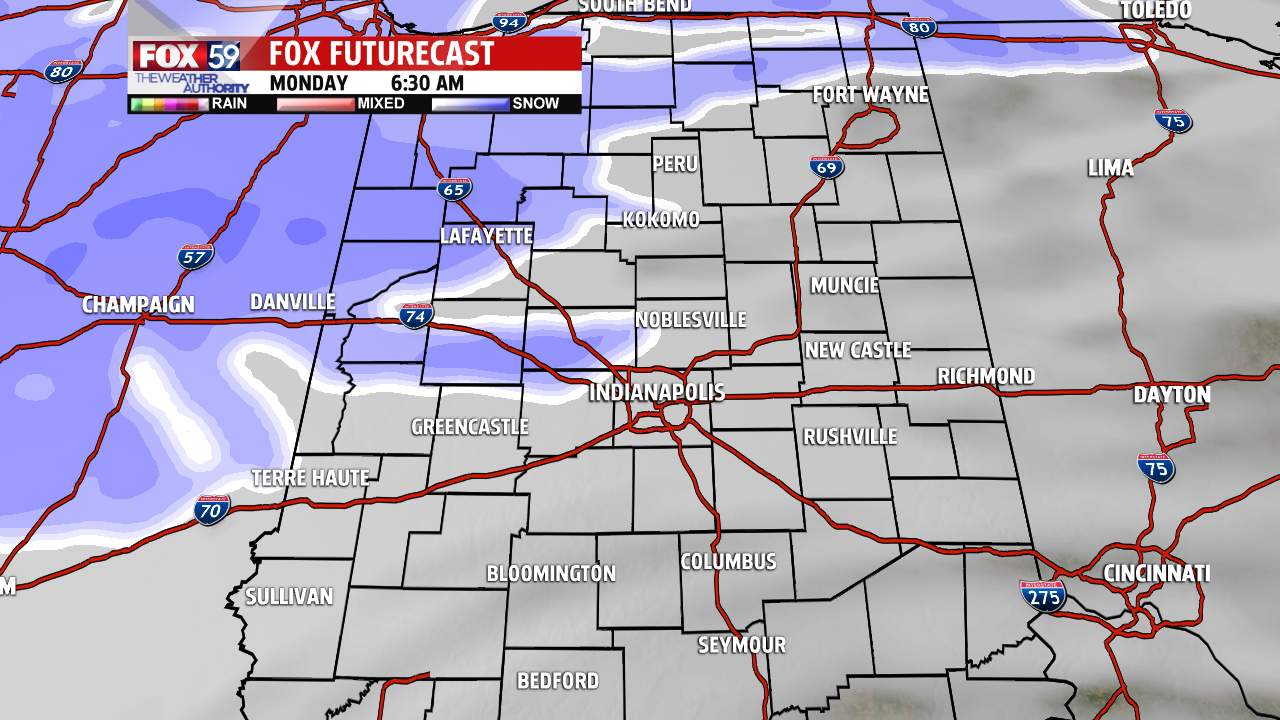 Snow will move into western Indiana around 4 a.m. and may begin in Indy as early as 7 a.m. Rain looks to mix in at times in the afternoon and evening as warm air moves into the area. This will ultimately cut down on snow totals in the city. Temperatures will climb to the upper 30s with east winds 5 to 10 mph.
Some cities in the Winter Weather Advisory may see anywhere from two to three inches of snowfall whereas one to two inches are possible in Indy. Places south like Bloomington to Columbus should see an inch or less of snow. In general, higher amounts are expected north of Indianapolis with lesser amounts the farther south you go. Snow will start to accumulate first on grassy surfaces as the ground temperatures are still rather warm. Deeper into the day, it may stick on roadways so use caution while driving.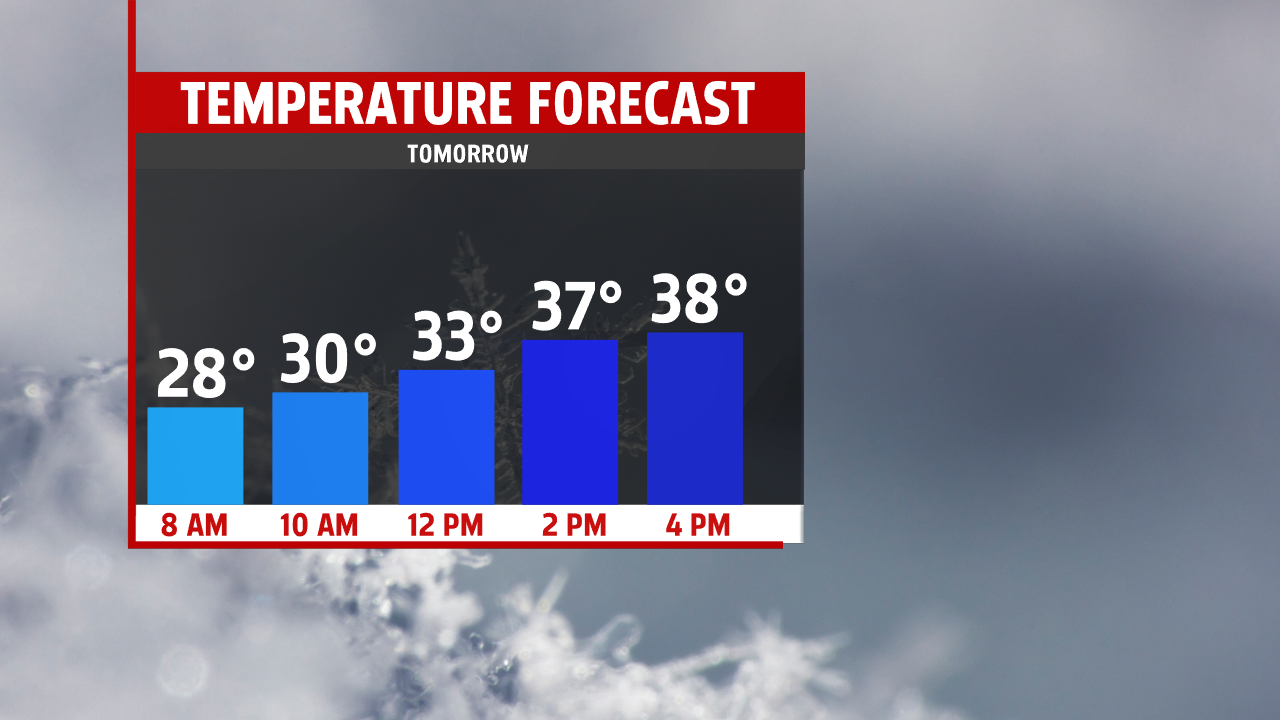 Central Indiana will see snow showers Monday night into Tuesday with highs Tuesday only in the low 30s. Wednesday and Thursday will be dry as high pressure builds in. A chance of rain is forecast for St. Patrick's Day as another low-pressure system moves into the area. Be sure to check the Monday morning forecast for any changes! --Danielle Dozier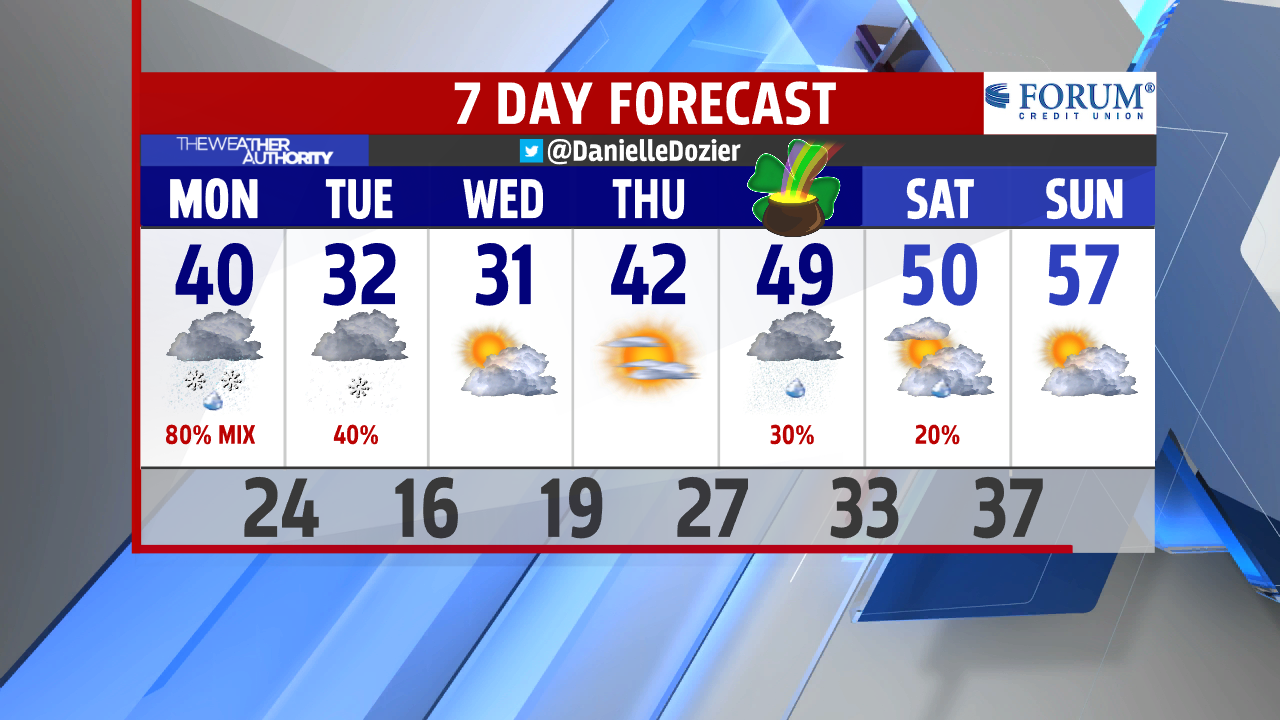 INDOT tweeted that snow removal trucks will be ready to go at 4 a.m.
60 INDOT #yellowtrucks roll out across #Indianapolis area interstates, US highways, state routes starting at 4AM #INDOTWinterOps #inwx

— INDOT East Central (@INDOTEast) March 12, 2017