This is an archived article and the information in the article may be outdated. Please look at the time stamp on the story to see when it was last updated.
PIEHL, Wis. (March 10, 2015) – A Wisconsin teenager arrested in Indiana on Sunday is accused of killing her mother and stepfather.
Ashlee Martinson, 17, will face two counts of first-degree intentional homicide and three counts of false imprisonment, according to the Wausau Daily Herald. The 17-year-old was arrested Sunday in Boone County after a deputy spotted her car.
According to court documents, Martinson killed Jennifer Ayers, 40, and Thomas Ayers, 37, before locking her three sisters in a room and leaving the home. Her 9-year-old sister told police she was with her mother when they heard gunshots upstairs. Jennifer Ayers then went upstairs, where she and Martinson argued and fought.
The 9-year-old said Martinson then told her and her two other sisters that they were going downstairs to play a game. Martinson put the girls in a room and tied the door shut so they couldn't get out, the newspaper reported.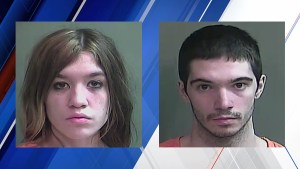 A 911 call alerted police to a problem at the Piehl, Wis., home. Police arrived to find Jennifer and Thomas Ayers dead.
Investigators said they don't have a motive in the case.
Ryan Sisco, Martinson's boyfriend, was arrested with her in Indiana on Sunday. Investigators in Wisconsin said Sisco is not wanted in connection with the homicide case.