This is an archived article and the information in the article may be outdated. Please look at the time stamp on the story to see when it was last updated.
INDIANAPOLIS, Ind-- Neighbors in a near southwest side neighborhood say they were given a "rude awakening" after an early-morning FBI raid.
The FBI confirms were conducting an investigation Thursday morning on the 1500 block of South Kappes street. Undercover investigators were at the scene.
Wendy Osborne, a spokeswoman for the Federal Bureau of Investigation, said the bureau and FBI SWAT were conducting investigative activity in the area. She would not reveal the nature of that investigation but said the neighborhood has been secured. The FBI confirmed that a dog was shot and killed during the investigation but didn't elaborate on the circumstances.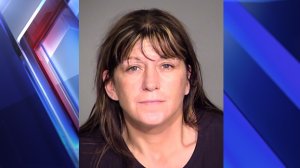 Kimberly Kleber, 44, was arrested at the same location of the raid on two counts of possession of methamphetamine, felon carrying a handgun. The FBI would not comment on the arrest.
Neighbors reported hearing gunshots in the area around 6 a.m., though the exact amount of shots fired is up for dispute.
"It was twenty shots, twenty shots," said neighbor Deloris Crum.
Vehicles from the Indianapolis Metropolitan Police Department and Indianapolis Animal Care Services were also seen nearby.
IMPD was providing support at the request of the FBI and said the department was not directly involved in the investigation.
"They've been cracking down on drug busts so I'm guaranteeing that's what that was for," said neighbor Matthew Osborn.
Both Osborn and Crum told FOX59 that they had noticed a good deal of "drug activity" in the area. They say they hope the Thursday morning raid will help slow down some of the action.