This is an archived article and the information in the article may be outdated. Please look at the time stamp on the story to see when it was last updated.
MADISON COUNTY, Ind. (April 20, 2015) – Madison County prosecutors charged Geraldine Jones, 36, with murder, confinement and kidnapping in connection with the death of Anderson mother Samantha Fleming and the kidnapping of her infant daughter.
Investigators believe that on April 6, Jones posed as a Department of Child Services employee and lured Fleming from her home in Anderson to Gary on the pretense that she needed to attend a court hearing.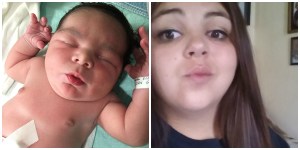 Anderson Police detective Scott Sanderson traveled to Gary on April 17 to investigate the disappearance.
While in Gary, Sanderson found Fleming's body wrapped in plastic and hidden in a storage bin in an apartment.
Investigators also found Samantha's baby. The baby was unharmed and with Jones' sister.
Jones was located in Texas where she is undergoing treatment for depression. Neighbors say she previously stated she was pregnant with twins, but that there were suspicions surrounding that claim. The woman later told family members that she'd given birth to one child, but that the other one had died. It remains undetermined if she'd ever been pregnant.
Authorities are currently trying to extradite Jones.