This is an archived article and the information in the article may be outdated. Please look at the time stamp on the story to see when it was last updated.
INDIANAPOLIS, Ind.– An Indianapolis woman claims she has been left out in the cold as her partner recovers in intensive care.
Jennifer Clemmer, 28, is in critical condition at St. Francis South Hospital after overdosing on prescription drugs Wednesday morning. Her immediate family has been by her side.
Her partner, Sarah Bray, tells Fox 59 she and her two children were denied the same rights.
"It's just gut-wrenching because I'm afraid I'm going to get a phone call in the middle of the night and she's gone," said Bray. "We got in there, and [the hospital] had already put her family in the room. I've seen her maybe an hour and half all day."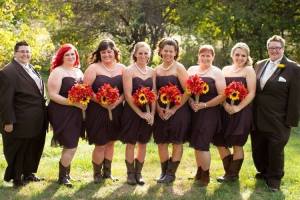 The couple own a home together. Jennifer is in the process of adopting Sarah's son. They were planning on getting married in Iowa this month.
"We are in a partnership. It's heart-wrenching. If I were a man and this were my wife, there would be no issue," said Bray. "To know that she's just beyond a set of doors and I'm stuck outside; they're not acknowledging our rights."
Legal experts said the case highlights a conflict between Indiana and federal laws regarding legal partnerships. Under Indiana's Marriage Law, "a marriage between persons of the same gender is void in Indiana even if the marriage is lawful in the place where it is solemnized."
According to President Barack Obama's memorandum to the Secretary of Health and Human Services, "…participating hospitals may not deny visitation privileges on the basis of race, color, national origin, religion, sex, sexual orientation, gender identity, or disability."
"A hospital barring a same-sex partner in specifically a hospital that receives Medicare and Medicaid funding, which most hospitals do, is not in compliance with federal law," said Dr. Jennifer Drobac, a family law professor at Indiana University Robert H. McKinney School of Law. "This shouldn't be happening."
Sarah hopes her fight isn't too late.
"We all deserve equal rights. It doesn't matter who we love. Love is love," she said. "The next time I see her could be at her funeral — one I might not have any say in because of what I'm fighting against."
Fox 59 tried to reach St. Francis Hospital for a comment. Officials have not returned our calls.
UPDATE
Franciscan St. Francis Health issued the following statement about the case:
Franciscan St. Francis Health has as part of its mission to provide the compassionate care and respect of our patients, their families and visitors. As such, our visitation policy applies equally to all people regardless of their orientation.
It is unfortunate that the current situation has been reported inaccurately in the news media and throughout social media. Contrary to the reports and social media comments, the significant other of the patient has been granted visitation with the patient regularly since her admission to Franciscan St. Francis. In addition, the significant other has been provided updates regarding the health status of the patient. We will continue to provide such access and updates as is our policy.
Our hospital has worked diligently and sensitively to meet the needs of both the family and the significant other, while at the same time caring for the best interest of the patient. All are an integral part of the healing process for the patient and Franciscan St. Francis will continue to work with both parties to ensure appropriate care to the patient.
State and federal laws prohibit us from commenting directly on the patient's condition, prognosis or related details. During this difficult time, the family asks that their privacy be respected by the news media and the public.