This is an archived article and the information in the article may be outdated. Please look at the time stamp on the story to see when it was last updated.
SARASOTA, Fla. (July 9, 2015) – Federal authorities confirm to FOX59 a Florida woman provided investigators with key information that ultimately led to a raid at the home of suspended Subway spokesman Jared Fogle.
Fogle has not been arrested or charged, but sources said the raid was related to a child pornography investigation. State and federal authorities raided Fogle's Zionsville home Tuesday, spending about 11 hours at the property, removing computers, DVDs and other electronics. Fogle's personal cellphone was also confiscated. Authorities also told FOX59 an electronics-sniffing dog assisted in the search at Fogle's home. Authorities said the dog is one of three nationwide used to find hidden data storage devices during searches.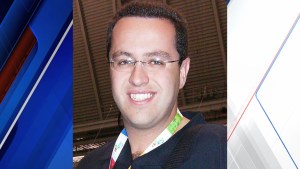 Sources said the unidentified woman spoke with Fogle on numerous occasions starting about a decade ago. According to WWSB's interview with the woman, Fogle often made "surprising and inappropriate" remarks.
"He said something to me when we were off camera and that really stuck with me. I thought to myself, 'Did he really say that to me?'" she told WWSB.
She said she contacted the FBI because the comments alarmed her. She said authorities had her wear a wire and record phone conversations. She wouldn't reveal details about their conversations, but she did say the subject matter was "similar to what the FBI found when they raided his home."
Fogle's attorney, Ron Elberger, told FOX59 the woman's story "is absurd" and that it never happened.
Tuesday's raid at Fogle's Zionsville home comes after the April arrest of Russell Taylor, the former director of Fogle's Jared Foundation, who is accused of accused of possessing and producing child pornography.
Subway announced Tuesday that it had suspended its relationship with Fogle after the raid. NBC Universal also confirmed to FOX59 Thursday that Fogle's brief appearance in the movie Sharknado 3 would be cut. Fogle did make a cameo in the movie's sequel, Sharknado 2.
Photos from Tuesday's raid:
Raid at Fogle's Zionsville home from July 2015

Raid at Fogle's Zionsville home from July 2015

Raid at Fogle's Zionsville home from July 2015

Raid at Fogle's Zionsville home from July 2015

Raid at Fogle's Zionsville home from July 2015

Raid at Fogle's Zionsville home from July 2015

Raid at Fogle's Zionsville home from July 2015

Raid at Fogle's Zionsville home from July 2015

Raid at Fogle's Zionsville home from July 2015

Jared walks into house with FBI agents

Raid at Fogle's Zionsville home from July 2015

Jared walks into house with FBI agents

Raid at Fogle's Zionsville home from July 2015