This is an archived article and the information in the article may be outdated. Please look at the time stamp on the story to see when it was last updated.
Photo courtesy of Facebook 
INDIANAPOLIS, Ind. (April 1, 2014) – A man was shot and killed in front of a tire store on the city's west side Tuesday morning.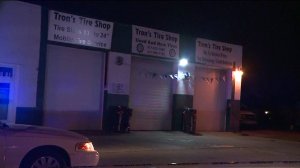 The shooting occurred around 5:50 a.m. in the 3500 block of West 16th Street. When officers arrived on scene they found 24-year-old Nathan Trapuzzano suffering from a gunshot wound to the stomach.
Trapuzzano was transported to Eskenazi Hospital in critical condition, before being pronounced dead at 7:40 a.m.
Detectives believe Trapuzzano was out on his usual morning walk when he was approached by two suspects. Police said one suspect forced the victim between two businesses while the other suspect acted as a lookout. The victim was shot during a struggle with the a suspect, said police.
Police released surveillance video (featured below) that shows the suspects in the area.
At 5:30 p.m., Indianapolis officers gathered at the tragic scene to canvass the area, seeking information about the murder.
Big @IMPD_News presence on W 16th. Have incident command vehicle out. Man shot, killed here this AM @FOX59 pic.twitter.com/0OjtGk9e9z

— Kendall Downing (@kendall_downing) April 1, 2014
Detectives urge anyone with information about this incident to call the homicide unit at 327-3475 or Crime Stoppers at 317-262-TIPS (8477). Callers may also text "INDYCS" plus tip information to 274627 (CRIMES).