This is an archived article and the information in the article may be outdated. Please look at the time stamp on the story to see when it was last updated.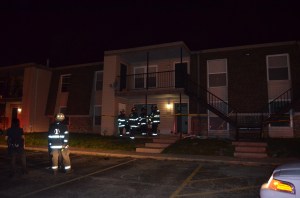 INDIANAPOLIS, Ind. (Aug. 9, 2014) — Firefighters called to help someone at one apartment complex, happened upon an injury at another. A woman had driven her car into her own apartment.
It happened shortly after 9 p.m. Saturday, at Whispering Pines Apartments in the 6300 block of Legend Lane. But that's not the location where firefighters were dispatched. They were sent to Booth Manor, an apartment complex right next door, for an injured person. But while crews were helping that person, they heard residents talking about hearing a loud boom.
After looking around, firefighters found that a car had smashed into an apartment at Whispering Pines and a woman was sitting on the sidewalk nearby. She had apparently driven her 1995 Toyota Camry right through the sliding glass doors.
The woman told firefighters she had just returned home from the store and was pulling into the parking space in front of her apartment. The next thing she knew, her car was inside her apartment and she did not remember how it got there.
Medics took her to Eskenazi as a precaution.
IFD says the damage to the apartment was mostly just broken glass. They did not need to shore up the structure.