This is an archived article and the information in the article may be outdated. Please look at the time stamp on the story to see when it was last updated.
Hundreds, maybe even thousands of vehicles were dented as the storm system hit right during the heart of rush hour Wednesday.  The hail storm put on quite a show.
Aly Hook had a front row seat in Carmel. She looked out into the parking lot at her work and watched as her new car got pummeled.
The hail looked like golf balls falling from the sky.  It sounded like popcorn popping.
The hailstorm broke out car windows and beat up Hook's brand new Chevy. She felt the hail's impact right away.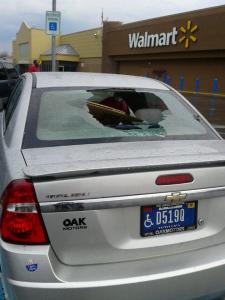 "Pretty much instantly, since it is a brand new car," said Hook.  "It hit me and sunk in, this is not good."
Hook was at work as her car was getting pounded by quarter to golf ball-sized hail.
"It was extremely loud," said Hook.  "All of us went out to the lobby to see what was happening.  We all just stood there and watched and knew it was not good news for our vehicles at all."
Now, Hook's car has dents and dings from hood to trunk.  She's not alone either, we got pictures from dozens of viewers with similar damage.  Hook was just glad it was over.
"The skies are still pretty dark. I am hoping we will not have even more storms," said Hook.