This is an archived article and the information in the article may be outdated. Please look at the time stamp on the story to see when it was last updated.
Greencastle, Ind. - Tami VanRensselaer in Greencastle asked us to visit her hometown and see how far it's come, so for this week's Your Town Friday we're headed to Putnam County!
Greencastle is on I-70 about halfway between Terre Haute and Indianapolis. About 10,000 people live there.
It was founded in 1821 by Ephraim Dukes. Dukes named it after his hometown of Greencastle, Pennsylvania.
Back in the 1830's, the people of Greencastle raised $25,000 to entice the Methodist Church to open a college.
It opened in 1837 under the name Indiana Asbury University, but the school changed its name to DePauw University in 1884 to honor Washington DePauw, who donated hundreds of thousands of dollars.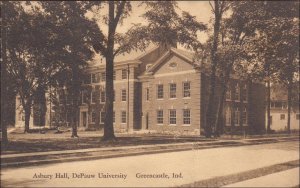 And as DePauw's current president, Dr. Mark McCoy, walks me around Greencastle's town square, memories of his first time here eight years ago resurface.
"A search firm called me up and said you've been nominated for a position and we'd like to talk to you about," said Dr. McCoy. "I came and took a look around and said, I don't know... maybe."
He said it was, "a lot of closed down storefronts struggling like small town America."
But he took a chance and took the job, and also took on the rundown downtown.
"For us as a University, we have to realize that as the town goes, so goes our college, and they have to realize that as their college goes, so goes their town. We realized we're inextricably linked together in this, so we're willing to work together to find the ways to make better things happen."
"We thought about what we can do as a community and a university and the "communiversity" was born."
The first major move was putting Eli's, DePauw's bookstore, downtown with a Starbucks next door.
"And then the Goodwill building went up for sale and we bought it and converted it into a place called Music on the Square and we have concerts there."
And then alumni started stepping in to invest in the city.
"DePauw has a lot of very successful alumni and they're able to come into an older town and take on the deferred maintenance and the challenges that most businesses would be unwilling to take on. "
Like the former CFO of Disney who opened Bridges, a restaurant with one of the best chefs around. The dining room has doors that open up to Music on the Square! There's a wine bar downstairs and Dr. McCoy says Bridges is one of only two rooftop restaurants in Indiana.
"You can look out over Putnam County and it's an absolutely beautiful view here."
Another alum invested in several spaces, including Tap House 24 and the golf course.
"And also Scoops, an ice cream shop where my children and my paycheck go regularly!"
"It's just amazing how much it's turned around. Inch by inch we've seen more activity on the square."
Greencastle won what's called a Stellar Community Grant which has been a big help, and it's not over! Dr. McCoy says plenty more big announcements are coming soon.
If you want to put in a request like Tami for us to visit your town, just click here!