This is an archived article and the information in the article may be outdated. Please look at the time stamp on the story to see when it was last updated.
INDIANAPOLIS, Ind. – For Your Town Friday during the month of October, we're checking out places some people say makes the hair stand up on the back of their neck. And we're starting with a place with quite the history.
Central State Hospital was originally known as the Central Indiana Hospital for the Insane. It opened in 1848 on Washington Street, just  west of downtown Indianapolis. At it's peak, 3,000 patients lived there.
It closed for good in 1994, but the stories and myths live on.
Past the worn down, dark, old coal plant, and inside a building with brains, skeletons and tumors, you'll find Sarah Halter.  She's the executive director of the Indiana Medical History Museum.
We found her in the autopsy room of the Pathological Department of Central State Hospital, not our every day interview location.
She says she gets mixed reactions when she tells people where she works.
"I think a lot of people think it's weird!" Halter said. "I think a lot of people think it's neat, but they definitely think it's weird."
Halter started at the museum as a grad school intern and never left. Ask her anything about history there, and she probably knows.
"It opened in 1848 as the Indiana Hospital for the Insane and it was Indiana's first state mental hospital. When this building opened in 1896, this was cutting edge. It was a big deal for the hospital and for the state of Indiana. "
The stories passed down generations about what happened on the 160-acre plot of land are too many to count.
Do a quick Google search and you'll see the history is complicated. There were thousands of patients and allegations of abuse. There are tunnels with shackles on the walls, and of course tales of the living being choked by unseen hands, footsteps from an empty basement, screams from the tree where it's said one patient killed another, and even reports of sounds from the basement of Halter's building.
Do people ask her if it's haunted?
"A lot of people do," said said. "I really don't think it is. I think it would be kind of neat if it were. I have a couple of historic crushes related to the building that it might be neat if they were roaming the halls! But I just don't think they are."
Many of the original buildings are now gone.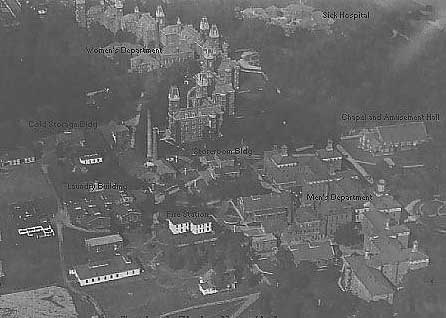 New homes and apartments and even IMPD's Mounted Patrol fill part of the space.
Some buildings have been rehabbed and house groups like People for Urban Progress, United States of Indiana, and Ignition Arts.
"The history is so complicated and it's such a fascinating story that you can tackle from all kinds of different angles. It's happy, and it's sad. It's inspiring, but also kind of a lesson in what not to do in some ways."
As of today, the City of Indianapolis owns the land the museum is on, the grove and the open green space on the north end. Reverie Estates owns the residential sites and many of the rehabbed buildings.
The museum offers guided tours Wednesdays through Saturdays and science programs for kids. Click here for more on the programs!