This is an archived article and the information in the article may be outdated. Please look at the time stamp on the story to see when it was last updated.
Plainfield, Ind. - We're riding around Plainfield for this week's Your Town Friday... and in a really nice car!
"My parents got married and both had Mustangs, then I came along in '68 and my dad had bought a '69 Mach 1 and I just have the fondest memories of riding in that car," said Brian Legg. "So it was natural that I was probably going to end up in Mustangs somehow."
It was in Brian's blood! And that of his longtime friend Bobby Williams, too.
They have to pinch themselves when they walk into their Legacy Motorsports shop off State Road 40 in Plainfield.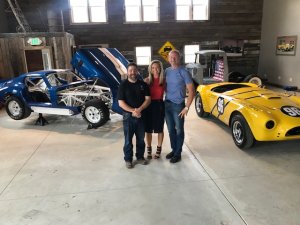 "We want to be able to give people the history of yesterday but the affordability of today," said Brian. "They're virtually unattainable unless you have tens of millions of dollars, so we try to come as close to the original copy as possible and make it affordable for the Average Joe."
"We're not a body shop. We're not a restoration paint shop. We build any kind of Mustang, Cobra, Daytona Coupe, GT 40 the way the customer wants it. We like to think we build them a Swiss Army knife car so you can track it, street it, go to a car show, whatever you want."
Legacy Motorsports opened a year ago. If you want to talk to Brian and Bobby about your dream car at a much dreamier price, click
here
and be sure to make an appointment!
Watch the video above for the entire story!