This is an archived article and the information in the article may be outdated. Please look at the time stamp on the story to see when it was last updated.
Indianapolis, Ind. - There is a former Colts player from Pennsylvania who has decided to call Indianapolis his family's home turf.
You might know him for "the catch," but his legendary play pales in comparison to the legacy he's leaving in some of Indy's roughest neighborhoods.
Former Indianapolis Colts cornerback Marlin Jackson's interception against the New England Patriots in the 2007 AFC Championship Game helped send the Colts to the Super Bowl where the team beat the Chicago Bears to take the title.
Ten years later, Marlin is running his Fight for Life Foundation in Indianapolis. Fight for Life helps Indianapolis kids. Many of them live in broken homes.
Marlin oftentimes feels like he's looking in the mirror when he sees them.
"I've been one of those kids. I come from an environment of a single-parent household," said Marlin. "I never met my father. My mother had drug and alcohol addiction problems. So I understand emotionally how empty you can feel inside. I understand not really having an understanding or sense of self of sense of community. No sense of social awareness."
"And when you live your life with those things, it's very hard to empathize with others and not be self-centered. You're just focusing on yourself because that's kind of what you have to do to protect yourself."
So through football, he teaches the kids self-control, goal-setting and how to show empathy for others.
"If you don't have a mom and a dad that are there consistently on a day-to-day basis to help you do that, how is it going to be done? If your school system isn't working to fill that gap, how is it going to be done? And those kids fall by the wayside and they end up not graduating high school. They end up not going on to college. Very few graduate from college and then when you talk about society and jobs and opportunities, they're not even in the game."
You don't have to be from a broken home to learn from Marlin. In fact, he finds young people like Erikmycal Powell, who has a wonderful family life, gain quite a bit from Fight for Life.
"They keep me on the right path and they make sure I am doing what I have to do to be successful," said Erikmycal, a sophomore at Shortridge High School. "So that's why I feel like I had an upper hand when I went with Marlin because I already knew the things to do and now with Marlin I was able to add on to what I already knew."
"I have the courage to say something to somebody if they're not doing the right thing," said Erikmycal. "And I feel like Marlin helped me build up the confidence to be able to say that to people."
Erikmycal is training to be a camp counselor at Seal the Deal, Marlin's upcoming free camp for local kids.
"I went through this for a reason and it wasn't just for me," said Marlin. "The pain that I felt, it wasn't just my own. I can use it for good and I can use it to inspire and really motivate and help change the paths and lives of those coming up behind me."
There are plenty of spots left open for Seal the Deal! It's June 3rd and 4th at Arsenal Tech High School. And Marlin is always looking for volunteers. Click here to get more information or register for Seal the Deal. You can register to be a volunteer here.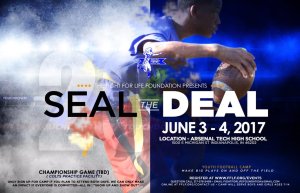 Be sure to check out the video at the top of this story to see how Marlin is making even bigger plays off the field than he did in the NFL.
Learn more about his Fight for Life Foundation by clicking
here
!