The candlesticks are almost like magic
More than any other holiday, Halloween is all about the decorations. That includes the costumes you wear, being that they are decorations of a kind. Normally, most Halloween decorations go outside so you can delight the neighborhood children with friendly ghosts or give them lifelong nightmares with realistic ghouls. Interior decorations, understandably, are frequently forgotten.
But if you plan to throw a Halloween party, you've got to go as all-out inside as you did outside. A key piece of any approach is mood lighting, and there's hardly a moodier lighting for Halloween than floating candles straight out of Harry Potter, wand included.
Shop this article: GenSwin Flameless Taper Floating Candles With Magic Wand Remote, Leejec Flameless Taper Floating Candles With Magic Wand Remote and PChero Flameless Taper Floating Candles With Magic Wand Remote.
What to look for in the candles
When looking at the candles, consider the design, battery requirements and hanging method.
Design: Most Halloween floating candles are thin and tapered since that's nice and light, though others can be surprisingly chunky. Besides size, also consider the color of the "wax."
Battery requirements: Most of the small, thin Halloween candles require one AAA battery for each. Some do require a second AAA or even up to two AA batteries if they're a large size.
Hanging method: Floating candles use fishing line to hang as it's thin enough to be invisible in the right light and strong enough to be secure. Some candles come with it pre-attached, while others include a reel of line for you to attach yourself. Additionally, better sets of floating candles come with hooks, stickers or something similar you can attach to your ceiling to hang them where you please with ease.
October Prime Day: Here are the best early deals
What to look for in the wand
When looking at the wand, only its potential extra features really need to be considered. Battery requirements and design are unimportant as essentially all of them use a single AAA battery and mostly look the same.
On/off: Being a remote, these buttons existing should be no surprise. However, some buttons can be awkwardly close together or be hard to push or unresponsive.
Timer: Some wands have a timer button that turns candles on and signals them to switch off after enough time, usually six hours. This won't exist if the candles don't have the feature.
Light-up tip: Some wands have light-up tips that trigger when you press the candle on and off button. The most fun wands have a button exclusively for lighting up the tip, so you can play pretend without causing a seizure from candles flicking on and off.
Best wand-controlled floating candlesticks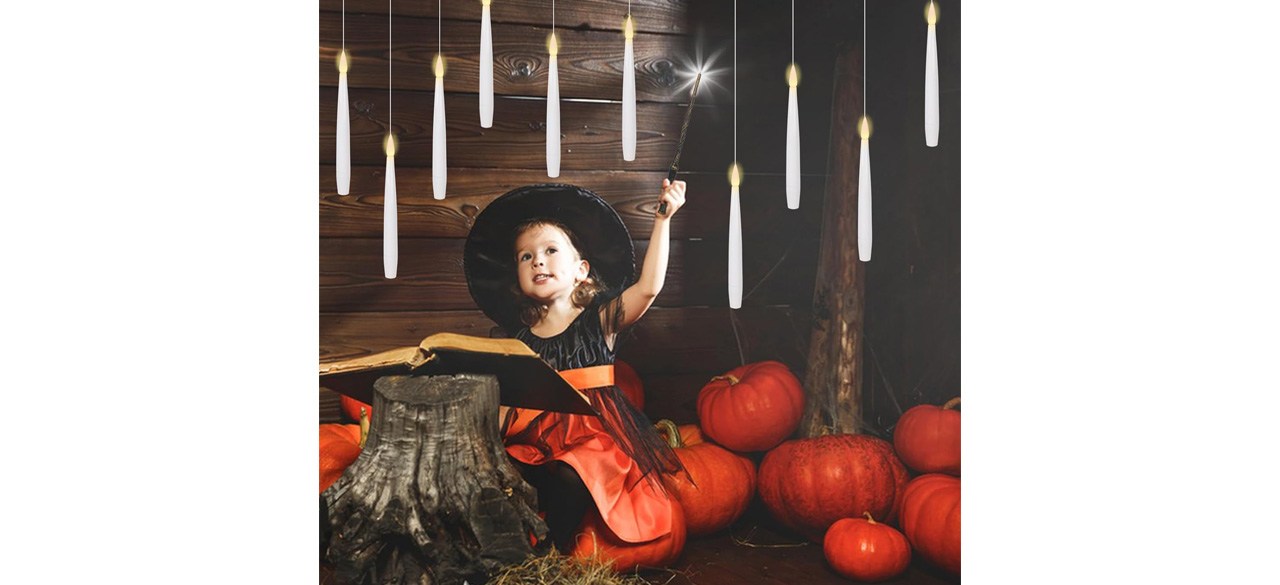 GenSwin Flameless Taper Floating Candles With Magic Wand Remote
Each candle is 6.1 inches tall with a 4.9-foot string made of fishing line. The candles and wand run on a AAA battery each, which aren't included. You can buy them as a set of 12 or 22. There's a six-hour auto-off setting.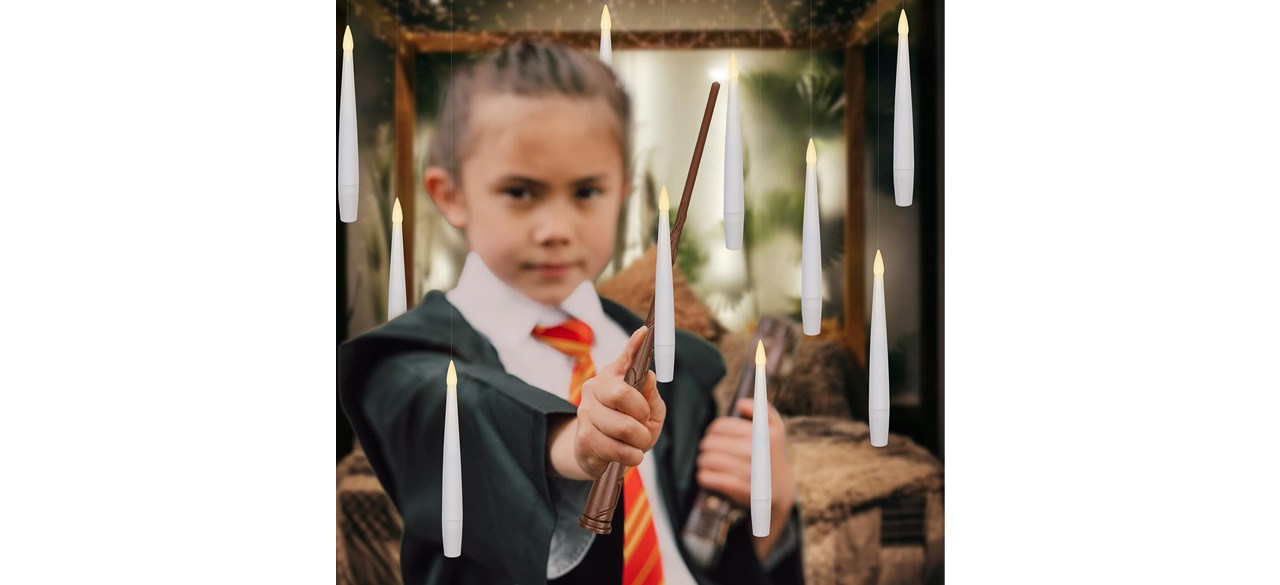 Leejec Flameless Taper Floating Candles With Magic Wand Remote
This seller has a range of floating candlesticks to choose from, all controlled by a wand remote. They can range in height from 4.8 to 10.8 inches and some sets of candles have a timer feature. Most are white, with one set having black candles.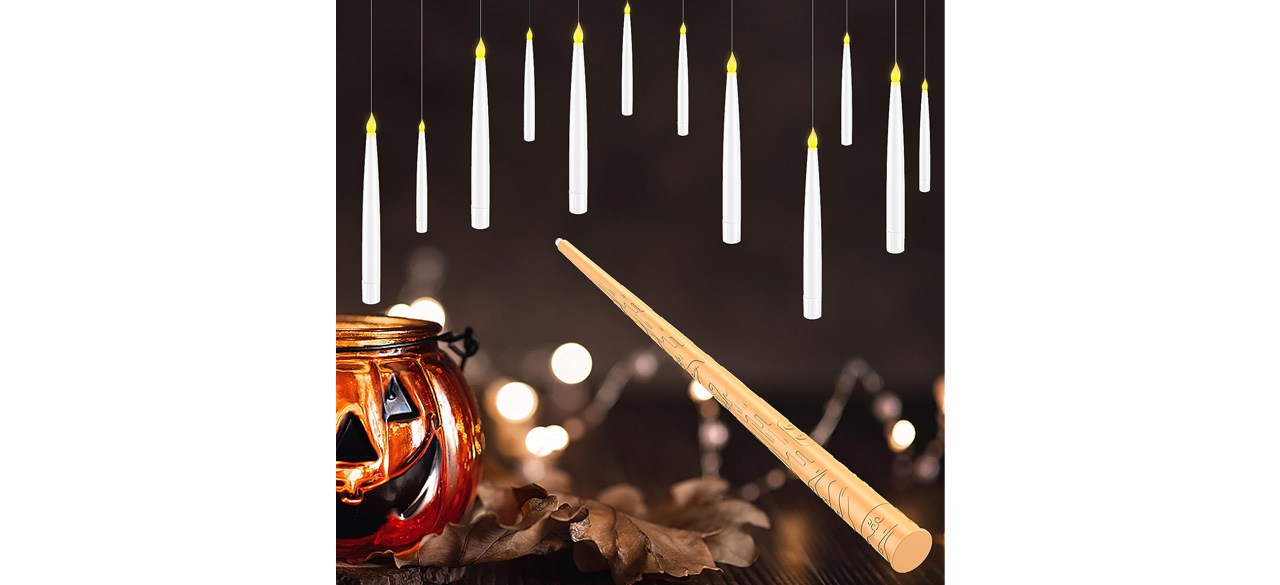 Erligpowht Floating Candles With Magic Wand Remote
The candles in this set of 12 are each 6.65 inches tall with 4.9 feet of fishing line to hang them. On a single AAA battery, each candle can be continuously lit for up to 200 hours. Hooks and pushpins for hanging are included.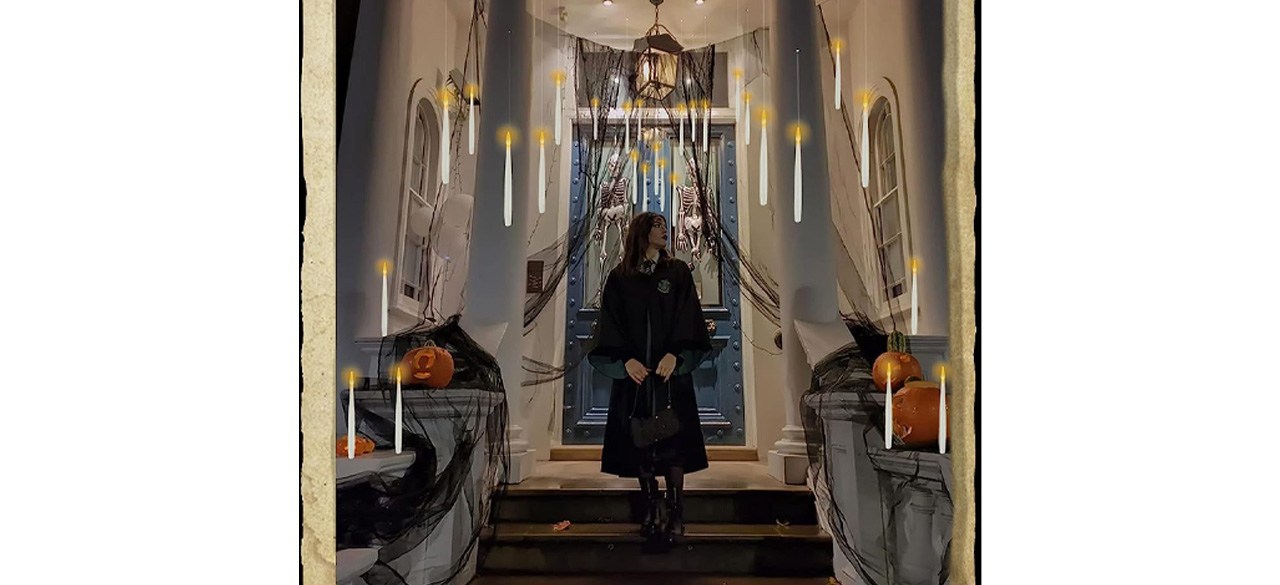 Jmtone Floating Candles With Wand
The candles of this set don't come with pre-attached fishing line. Instead, they include a huge reel of fishing line that's 164 feet long. They also come with 40 glue dots so you can quickly and easily stick your candle line to your ceiling.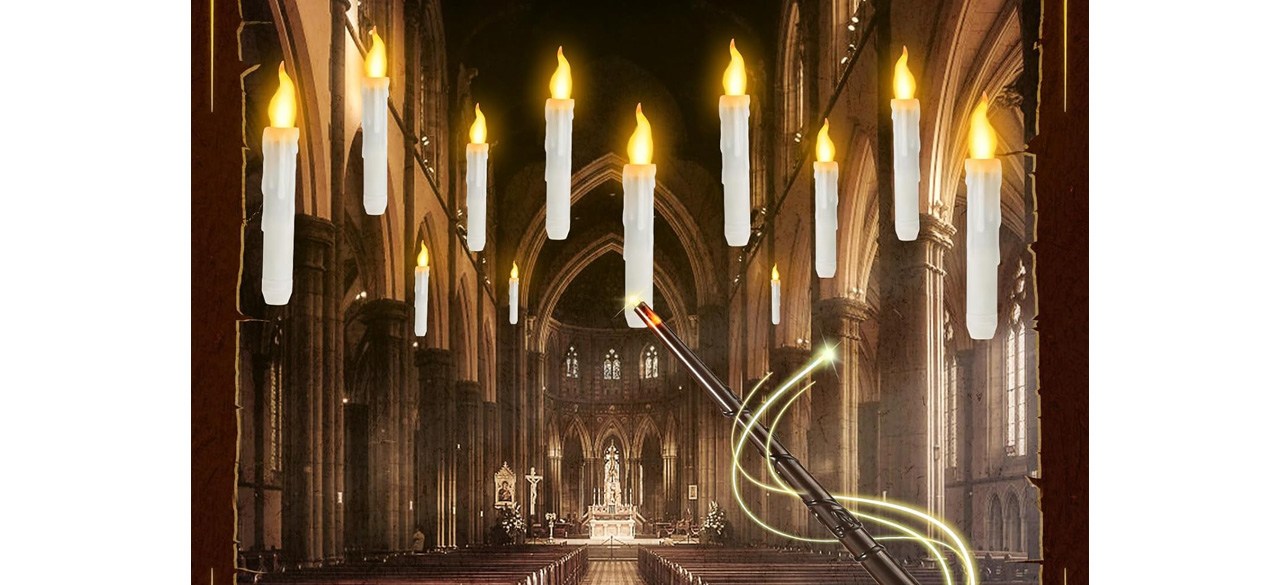 Ymxhk Floating Candles With Wand
The candles of this 12-candle set take more batteries than most (two AA batteries per candle), but they have a simulated flicker, plus they can run for up to 200 hours. The wand remote only needs one AAA battery and its tip lights up when you cast your "candle on" spell.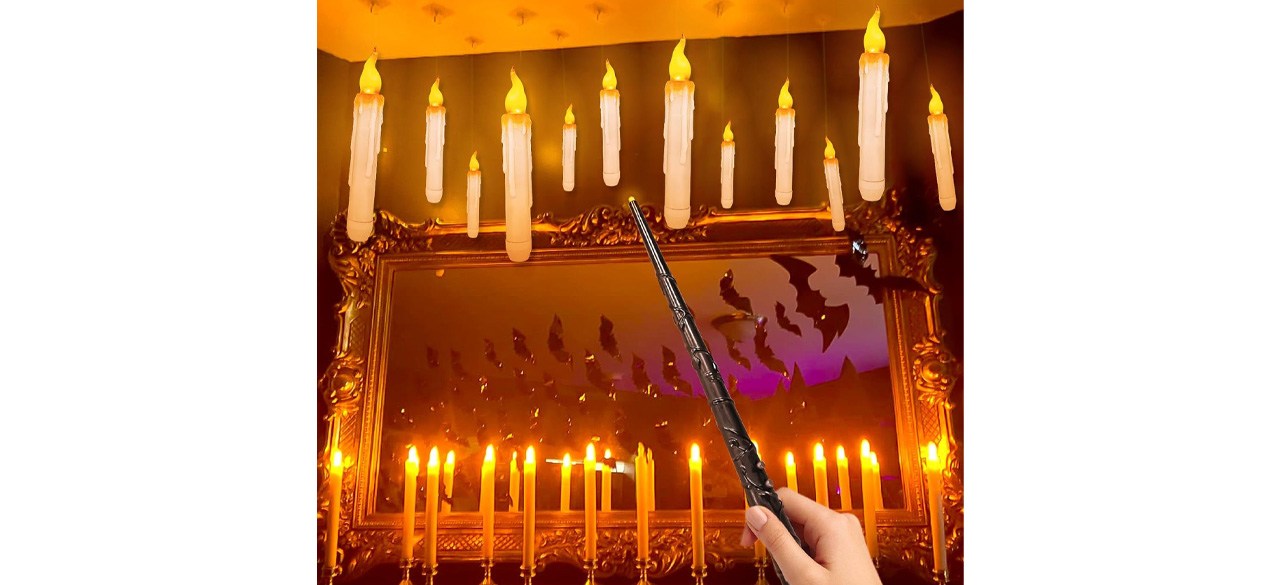 Vernilla Harry Potter Floating Candles With Wand Remote
These 12 chunky candles are thicker than most at 1 inch in diameter and slightly longer, too, at 6.7 inches. The fishing line is on the side so you can carefully measure out your hanging length, and hanging hooks are included.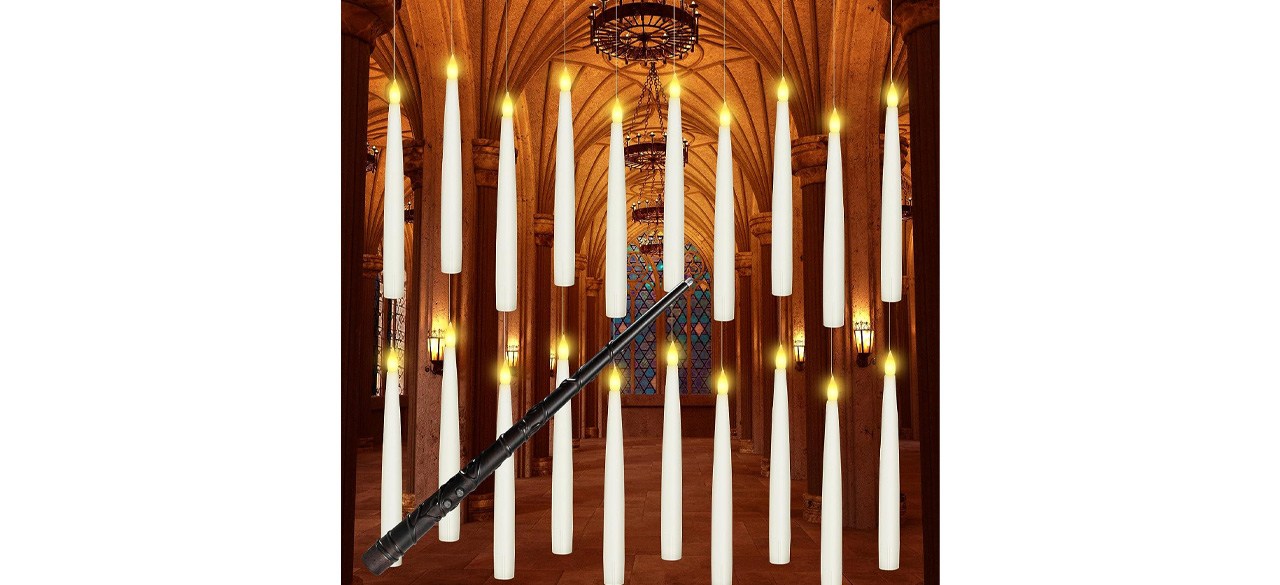 Boribim Floating Candles With Magic Wand Remote
This is another pre-attached fishing line set at the standard 4.9-feet length, though the candles are longer than most at 6.6 inches. Stick-on hooks for your ceiling are included and the candles have a realistic flicker effect.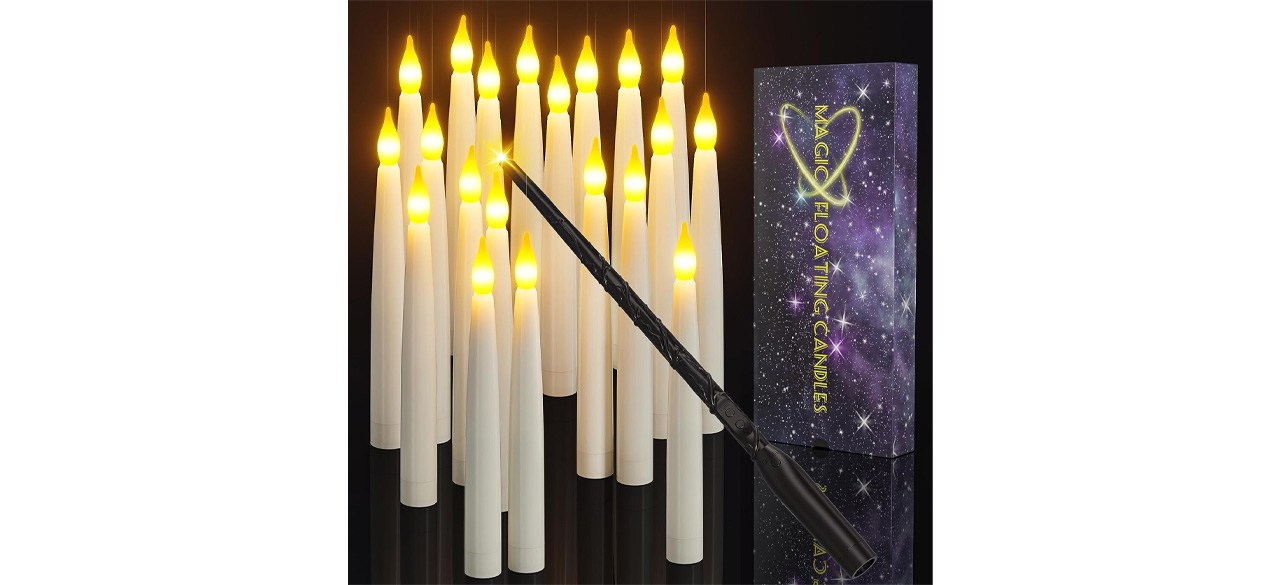 PChero Flameless Taper Floating Candles With Magic Wand Remote
If you're looking for a set of hanging candles with a wand remote specifically because you have kids and want them to feel the Halloween magic, get this set. The wand has a button that exclusively lights up the tip of the wand, making it the most fun to play with without turning the candles off and on constantly.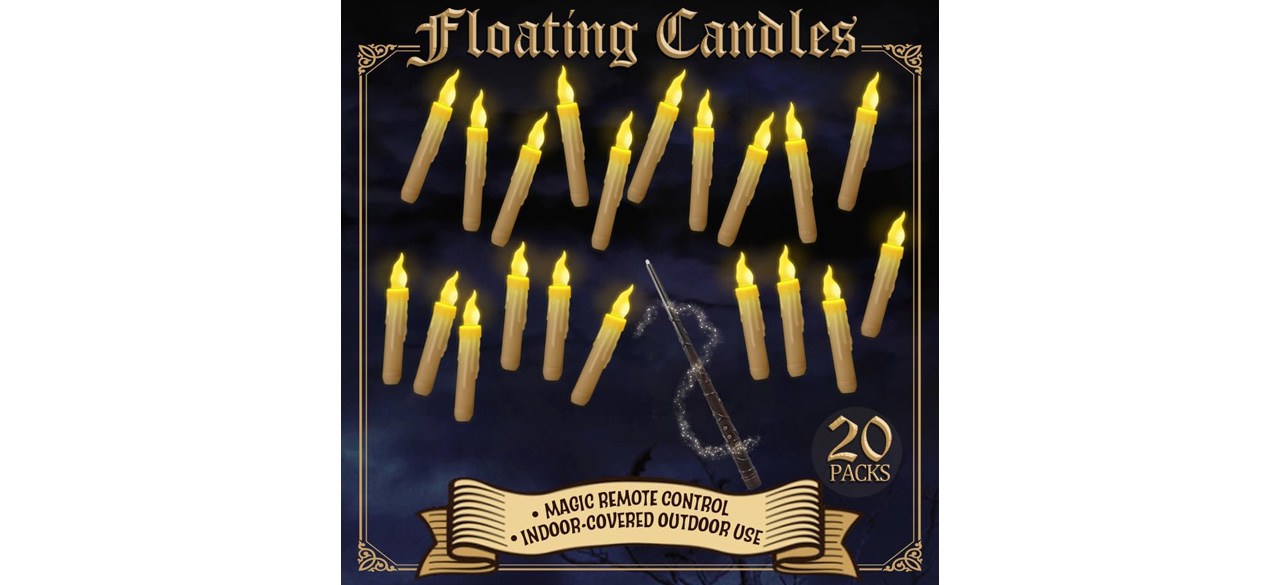 Hemeiyu Flameless LED Floating Candles With Magic Wand Remote
You've got two design options with this 20-candle set. One that's thicker in the middle and has faux dripping wax and one that's thinner with no wax for a more minimal effect. You can also get the dripping-wax set at a quantity of 12.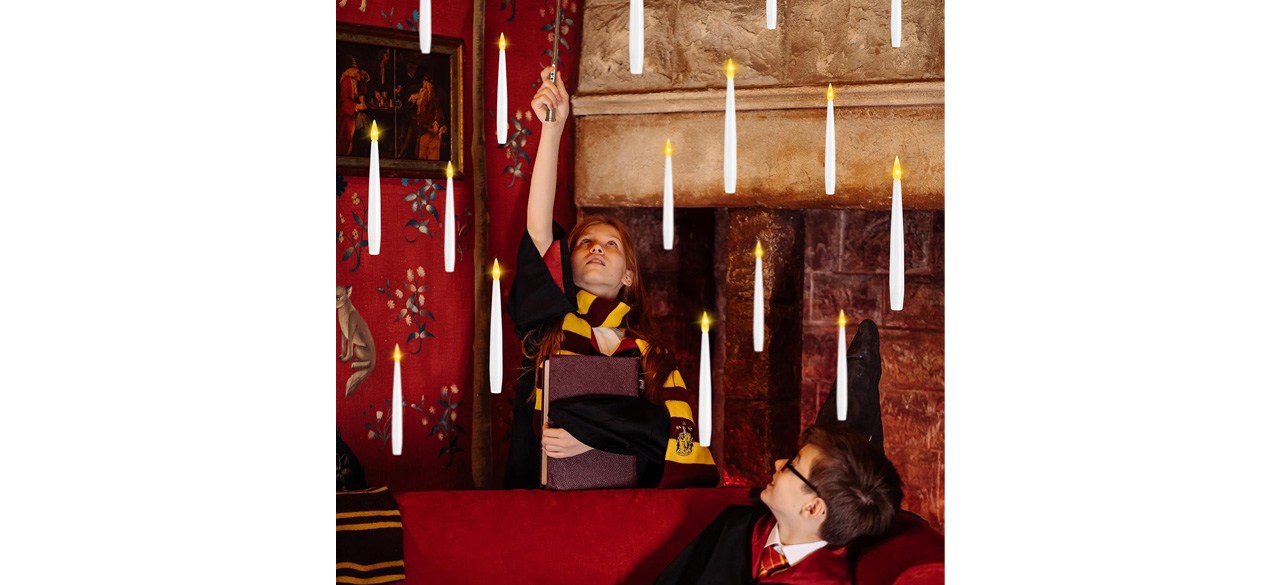 Lusharbor Floating Candles With Wand Remotes
If you have multiple kids, or you just live with someone who also wants to play with the wand remote, this set comes with two so you don't have to share. The candles are tapered and 6.1 inches tall with 20 total, or you can get a 7.3-inch tall and extra-wide set of 12.
Wand-controlled floating candlesticks worth checking out
Want to shop the best products at the best prices? Check out Daily Deals from BestReviews.
Sign up here to receive the BestReviews weekly newsletter for useful advice on new products and noteworthy deals.
Jordan C. Woika writes for BestReviews. BestReviews has helped millions of consumers simplify their purchasing decisions, saving them time and money.
Copyright 2023 BestReviews, a Nexstar company. All rights reserved.