This is an archived article and the information in the article may be outdated. Please look at the time stamp on the story to see when it was last updated.
INDIANAPOLIS (Nov. 6, 2014)– They always said "time flies" and as usual, they were right. November 6, 2014 marks 15 years on the job at FOX59 for yours truly.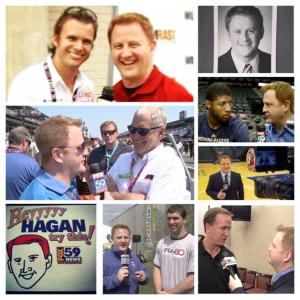 November 6, 1999 was a Saturday, and the main local sports attraction was the grand opening of Conseco Fieldhouse. The Pacers were tipping off the '99-'00 season in the new building and honoring the 50 greatest Indiana basketball players. Being the new guy, I didn't get that assignment. My official title was sports photographer. My duty that day was shooting the Purdue-Wisconsin football game in West Lafayette that featured Boilers QB Drew Brees and eventual Heisman Trophy winner Ron Dayne.
From day one I've loved this job, this station, and this city. I was made to feel welcome from the very start by that famous Hoosier Hospitality. I've been blessed to travel the country and cover almost every major sporting event there is. A lot has changed over the past 15 years however, in both sports and in life.
When I moved here, Indy was still very much a basketball town. Bob Knight was at IU. Gene Keady at Purdue. Two legends. The Reggie Miller-led Pacers were playing to sold out home crowds nightly en route to their only NBA Finals appearance in franchise history under head coach Larry Bird.
Peyton Manning was mid-way through his 2nd season with the Colts, and you could already tell he was something special. A division title led to the first ever playoff game in Indianapolis that season. That game was in the RCA Dome, but thanks in no small part to Manning's success the Colts have a new home now. Without Manning, would there be a Lucas Oil Stadium? A Super Bowl in Indy? Would the Colts even be in Indianapolis? Eventually, I would get to cover 2 Colts Super Bowls – both in Miami. In 2006, the Colts hosted the Lombardi Trophy, and I was there.
Racing has been a huge part of my time here as well. I knew little more than the name of the event before covering my first Indy 500 in 2000. The open-wheel split was in full effect. It's been great seeing the re-unification and growth of IndyCar during my time here. I was there when Sam Hornish Jr and Dan Wheldon each won thrilling 500s on the final lap. Sadly, I was also in Las Vegas when Wheldon lost his life. On the NASCAR side, I was there when Tony Stewart finally won at IMS, and I interviewed him shortly after. Moments like that are unforgettable. So too are the tragedies. Like that fateful day when I was covering the Daytona 500 and Dale Earnhardt lost his life on a final lap crash. Hearing Mike Helton break the news in the jam-packed press room is still a haunting memory.
Another tragic moment that touched my sports travel is 9/11. The Colts played a road game against the Jets on 9/9. I flew back to Indy out of Newark – the same airport and airline of the ill-fated Flight 93. I saw the Twin Towers standing the last weekend that they ever did. I remember commenting to my co-worker at the time about how amazing they were. Life and travel would never be the same for me or anyone. Less than 2 weeks later we were on the road for a Colts game against the Patriots. Armed military personal were everywhere in Boston's Logan Airport.
In 1999, I didn't have a computer or a cell phone. Twitter, Facebook, and Instagram didn't exist. My job is a lot different since the advent of all that technology. Sometimes, I miss the days of land lines and answering machines.
I've covered Super Bowls, NBA Finals, Final Fours, MLB playoff games, Indy 500's, Daytona 500's, Formula One at IMS, WNBA Finals, Indianapolis Indians championship seasons, and an Indianapolis Ice CHL Championship season. And who can forget the Indiana Firebirds? Or should I say: And who can REMEMBER the Indiana Firebirds?
The High School sports have been amazing as well. It's fun to see young people I covered grow into professionals and more importantly adults.
Some of the most fun I've had was doing the "Hey Hagan, Try This" challenge series. I think I was 0-Life during those segments.
As I reflect on 15 years, I want to thank all the co-workers I've had at FOX59 over the years and most of my bosses (I kid, I kid). I value the relationships I've made with players and coaches at all levels as well.
But most of all, I want to thank all of the viewers. Nothing makes my day more than someone recognizing me and wanting to talk sports or just say "Hi."
Yes, a lot has changed since November 6, 1999, but I'm still here at FOX59. I've had a blast, and I hope you've been able to share in the fun along the way.
I'll write my next reflection piece on November 6, 2029. We'll have flying cars by then, right? Should make for a hell of an Indy 500.