This is an archived article and the information in the article may be outdated. Please look at the time stamp on the story to see when it was last updated.
DETROIT, Mich. – Isaac Haas may not have played a single second in Sunday's win over Butler, but the Purdue senior still got the locker room honor to advance the Boilers in the bracket.
Isaac Haas sends the Boilers on #Purdue #MarchMadness pic.twitter.com/8lNIPLIzOm

— Dave Griffiths (@DaveG_Sports) March 18, 2018
"I think the attention should be on (my teammates) to be honest," said Haas in the locker room. "I was just there. I was just a cheerleader. I'm just proud of those guys. It means the world to me."
At the same time, Haas' effort to return to the court, going through practice Saturday and warm ups Sunday, means the world to the Boilers.
"To have a fractured elbow and to do what he's doing right now is amazing," said senior P.J. Thompson. "He just fractured his elbow two days ago. He's a fighter. He's a warrior."
"Isaac's been a fighter for four years now," added freshman Matt Haarms. "This is his last go-round. That shows how much not only this team means to him but Purdue means to him."
"He's been a big part of this team and what we've done, as far as our success this year" continued senior Vincent Edwards. "We just had to pick him up. I told the guys in the huddle before we walked onto the court, 'This is for Isaac. We just gotta pull together. We just got to play.' And that's what we did."
Any hope of Haas playing against Butler was squelched by the NCAA, ruling the elbow brace he was wearing was not compliant with Men's Basketball Rule 1 Section 26 (see below).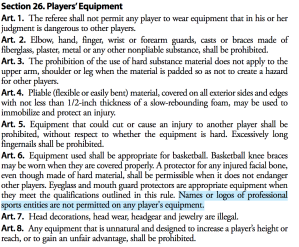 Now if Purdue can find a brace that both protects Haas and pleases the NCAA? Haas says he "absolutely" will be ready to go in the Sweet 16.
"I'm gonna give everything I got for these guys," he added, "whether that be cheering from the bench or going out and playing two minutes."
"I told him when he went out 'You gotta get two handed rebounds and you gotta shoot right-handed free throws,'" said head coach Matt Painter, on when he'd allow Haas to play again. "If he can do those two things, he can help us cause he's gonna get fouled. Him going out there and getting fouled and missing a bunch of free throws isn't gonna help us.
"At the end of the day, which stinks sometimes, coach makes the best decision for the team."
So as the Sweet 16 looms, Haas will go back to work, hoping to extend his college career a little while longer.