This is an archived article and the information in the article may be outdated. Please look at the time stamp on the story to see when it was last updated.
The IHSAA will be investigating a fight that broke out at a football game between Fort Wayne South and Arsenal Tech on Friday night.
IHSAA Assistant Commissioner Chris Kaufman says they will be meeting with officials from both schools on Wednesday adding that they are "not proud of what happened."
Things escalated on Friday when a Tech player was tackled out of bounds.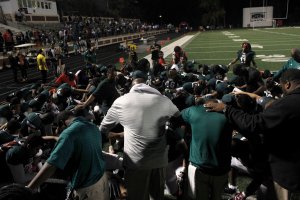 The game was called with Tech leading 24-6 with 1:11 left in the third quarter.
The IHSAA will not speculate about what type of punishment may or may not be handed down. However some possibilities include probation, suspensions for those involved as well as not being allowed to play in the state tournament.