This is an archived article and the information in the article may be outdated. Please look at the time stamp on the story to see when it was last updated.
ATLANTA, Ga. – Friends and family gathered in Atlanta, Georgia, Monday to say their final farewells to Indianapolis Colts linebacker Edwin Jackson.
Jackson, 26, died after an accused drunk driver hit him and his Uber driver, Jeffrey Monroe, on I-70 on Sunday, Feb. 4.
Former Colts coach Chuck Pagano and GM Chris Ballard were among those who spoke at Jackson's funeral. Mourners paid their respects Sunday during Jackson's visitation at Big Bethel AME Church.
Jackson's family is asking fans to donate to the Edwin Jackson 53 Foundation in lieu of cards or flowers.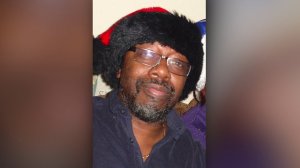 Jeffrey Monroe, 54, was laid to rest after a service Friday at Flanner Buchanan Floral Park. The 54-year-old had picked up Jackson and pulled to the side of the road after the Colts player felt sick.
They were struck by a Ford F-150 pickup truck that police say was driven by Manuel Orrego-Savala. Tests showed Orrego-Savala had a blood-alcohol level nearly three times the legal limit.
Here is what Ballard and Pagano said at the funeral, courtesy of Colts.com.
Chris Ballard:
"… I've probably known Edwin the least here, a year, but about my third day on the job, there's a young man who comes up with his bright smile and introduces himself. And everyday he introduced himself, to make sure he knew that I knew who he was. One day he came down to my office and we had a long talk about where we're going, what are we doing? You know, football's not going to last forever. It doesn't. It ends for all, whether it's in junior high, high school, college or the NFL, and I started to ask Edwin, 'Where we going? What's our next step?' And he got a big, bright smile on his face, and we talked about school, and how we were going to finish, but he thought he had more to do; he had more to do in the league. He had a platform, he had platform to serve others, and he was tremendous in that way. He was one of our more active guys when it came to serving our community. About two weeks ago he came to my office; he had a tough year. When a player's injured, it's very difficult on them. They don't feel like they're part of the team, they don't feel like they're cared about, and it's hard. It's a lonely life when you're an injured player, and I always made sure that I stayed in touch, that (he) knew that we cared, that our organization cared and cared about him. And he came to me about two weeks ago with something else on his mind, he says, 'Chris — best I've felt. Best I've felt, but my back. My back's hurting.' I said, 'Edwin,' I said, 'Let's get it checked out.' And we did, and everything was good. And he was excited about the future going forward, and we were excited about him. That's why Sunday was such a great shock. It changed me. It brought us together. I spent all Sunday and Monday pretty much feeling sorry for myself. Without David Thornton, I don't know if I would've gotten through those two days — and without the Jackson family. You inspired me to treat people differently, because tomorrow's not promised to any of us (applause). He was a special young man, and I was very fortunate to have gotten to know him. But he's not gone. He is not gone. The impact he made on our organization, on our players, on our coaches, on our scouts, is tremendous. And that will live on. It will live on, and he will always be a Colt. Thank you all."
Chuck Pagano:
"It's truly a blessing and an honor to be here today, to pay respects to Edwin — "Poundcake." Poundcake. I'll never forget the first time he came to (the Colts' facility) West 56th and he sat down and (I) said, 'I just have to know where you got the name, 'Poundcake.' Can you explain to me, please?' I know that Arizona picked up — the Cardinals picked up — Edwin in 2015 as a free agent, and I know that circumstances had it where I think he might've missed his first flight and was a little bit tardy — he was never tardy with us at the Colts, I can tell you that. So I guess mom made some poundcake to take back with him, just to get in the good graces of coach (Bruce) Arians and the rest of the Cardinals organization. It must've been some really good poundcake. From the day that Edwin entered West 56th, that smile, that amazing smile — God, could he light up the room … and the energy and passion and fire and juice and love and determination and drive and dedication seeped out of this young man. And when you go back and you do some research and you find out exactly where Edwin came from, and how he got to our place, and what he overcame and what he went through — a walk-on at Georgia Southern and had to earn his way, and as a free agent in the National Football League and had to earn his way to becoming a starter in the National Football League (applause) and playing a game that he so dearly cherished and loved. Edwin was full of gratitude and he was full of life. He lived full. Every single day — every single day we got nothing but energy and passion and grit from this young man. And I'm blessed to stand here today and tell you what an honor and privilege it was for me to be his coach — one of his coaches. To the Jackson family … I pray that God will be with you, take care of you and comfort you and bring you peace and understanding. We often ask why — why Edwin? Why now? Why so young? A lot of mystery surrounding that. Really, mystery isn't the absence of meaning but the presence of more meaning than we'll ever be able to comprehend in this lifetime. And I know something great — something really, really good — is going to come from this (applause). And I know I'm a better man, father, husband, coach and friend because of Edwin. I will miss him dearly. Thank you."