Minicamps get underway this week, and that gives us plenty to get to in this week's Takeaways …
Mac Jones sure looks like he's the Patriots' starter. I was out at New England's OTAs last week, and if you dropped in there from Mars and I asked you who the first quarterback was, I don't think you'd have much problem figuring it out. Jones was taking snaps from starting center David Andrews during early walkthrough periods. He was with the first group in just about every drill. He was with the monied skill-players during seven-on-seven work. I'm told, additionally, that's really the way it's been throughout the offseason program.
So what does it mean?
I don't think Jones is entrenched the way, say, Patrick Mahomes is in Kansas City or Josh Allen is in Buffalo, or even his draft classmate Trevor Lawrence is in Jacksonville. That said, where Bill Belichick has left the door open for a competition with his words, the coaching staff's actions will tell you that the path to Bailey Zappe winning the job is very, very narrow—mostly in that it looks like he'll have fewer opportunities than Jones, which means Zappe will have to absolutely crush it with those opportunities to create a real summer QB derby.
Both players, for what it's worth, have been in the building daily, starting in the 6 a.m. hour and regularly staying through dinner time. But this is very clearly Jones's job to lose.
And while we're there, the other thing that's obvious is the impact new coordinator Bill O'Brien is having on Jones and the offense. The Patriots practice I saw (which again, I've heard mirrors the ones closed to the media), moved efficiently, with the offense looking crisp and put together and Jones clearly looking like the team's best quarterback. I'd say that clarity and consistency give everyone a chance to bounce back, and the team to get a cleaner assessment on its 2021 first-rounder at the game's most important position.
As for any lingering issues between Jones and Belichick, it was far harder to ascertain whether the needle's moved much on that relationship at all. There was no come-to-Jesus meeting at the end of the last season on how everything came undone, and my understanding is Jones has spent his time with O'Brien, with Belichick mostly delegating all things offense to his new/old coordinator, in a siloed-off model that feels, to those there, much more like how things were when Josh McDaniels was around a couple of years ago.
---
The DeAndre Hopkins market remains murky, but his hire of an agent (Klutch's Kelton Crenshaw) should help. We've been over this a few times now about how Odell Beckham Jr.'s deal has had an adverse effect on the Hopkins market. Beckham got $15 million in base pay from the Ravens, with another $3 million in upside.
I'd be pretty stunned if that sort of deal is out there for Hopkins.
And that's where hiring an agent can help him. Part of Crenshaw's job will be giving Hopkins the hard truth about his market, and that where it sits now is about more than just who he's been as a player—his age, injury/practice history and the time of year it is are all big factors, too. Had Hopkins accepted those truths earlier, my guess is he would probably be on the Chiefs or Bills roster now.
At this point, I'd say both those teams would sign him only at a discount. The Chiefs gave money that would've gone to Hopkins to left tackle Donovan Smith. The Bills traded up for Dalton Kincaid, lessening their need for a chain-moving receiver and giving them another mouth to feed in an offense that has to get the ball plenty to Stefon Diggs.
Who does that leave? Well, I think now that the price has dropped and a draft pick won't be involved, the Patriots are worth considering. Despite perception out there, my sense is that O'Brien would be plenty on board with, not against, signing Hopkins (and Hopkins had his most productive years playing for O'Brien in Houston). The Browns are another team that's been connected to him, because of Hopkins's relationship with Deshaun Watson, but as it stands right now, I'd say that one's unlikely.
After that? Maybe the Ravens will throw their hat back in the ring. Lamar Jackson wanted both himself and Beckham back in April, and Baltimore could afford to take only one. But with the price coming down, circumstances might have changed.
Either way, this one remains tough to forecast. But having an agent, beyond just adviser Saint Omni, involved should help expedite things.
---
So far, so good on Brock Purdy. The 49ers' expected starting quarterback should, well, continue to be expected to start for the team. He's on a very controlled throwing program now, and this week's minicamp in Santa Clara should provide more answers. As it stands? Purdy is throwing without pain, and he's passed every test the Niners have thrown at him.
The plan going forward is to gradually increase the velocity and distance on his throws. But at this point, I'm told he's come through the rehab process and is now building strength back in his arm, on a track that'd have him ready to go for Week 1.
In the meantime, with the offseason program winding down, the coaches will get a few more looks at both Sam Darnold and Trey Lance, running Kyle Shanahan's offense in what's shaping up as an all-in type of year for San Francisco's loaded roster—one that's been to three NFC title games and a Super Bowl—in pursuit of the franchise's sixth championship.
---
The Bengals' Mike Thomas and Patriots' Matthew Slater deserve a lot of credit for helping to get players' voices heard. There's been a lot of back-and-forth over the past few weeks on the new kickoff rule, much of it sparked by the pushback coming first from special teams coaches, then players. And that effort didn't materialize out of thin air. The coaches are regularly on calls with one another, and it was from there that they chose two players to lead the effort.
Those two were Slater, the Patriots special-teams captain, and Thomas, Bengals special-teams captain, who have a combined 24 years of NFL experience.
Slater and Thomas organized the call that we referenced the past couple of weeks—there were 34 players, with representation of all 32 teams on it—that brought a new layer of credence to the resistance to the change. It didn't wind up working in the end, with commissioner Roger Goodell flipping eight votes overnight at the owners spring meeting in Minneapolis a couple of weeks ago to get it passed. But it did display how players can organize in such a case to have their voices heard.
I had a chance to talk to Slater about that Wednesday. He was, as always, pretty thoughtful.
MMQB: Why was this so important to you and Mike?
Slater: I think in a situation like this, it was important that all the voices that factored into this issue had a chance to be heard. Certainly for Mike and I, we wouldn't have had careers in this league without the kicking game. We're well aware of that. I think we feel indebted to the game, and we want to preserve the game as best we can. So we felt compelled to speak up. Mike and I have been friends for a long time; we felt compelled to speak up and really say, Hey, we don't have a say, we don't have a vote, but this is how we feel. It was nice to see that all the coaches were unified; all the players were unified. It's obviously super disappointing that they started to tinker with this play. And what I believe they're trying to do is eventually take it away, and that's a shame. This game's 100 years old, and this play's been here for 100 years. I know it's a dangerous play, but if you really look at the play, you look at the 20 head injuries [in 2022], I'd say over half of them had nothing to do with the kickoff; it was more technique. They're just football plays. That's the reality. I understand that. Mike understands that. As players, we were hoping we were heard there. It's unfortunate things are the way they are.
MMQB: Is it frustrating that you had that kind of unanimity on it, among special teams coaches and players, and it didn't make that difference?
Slater: It is. It's not surprising, though. Look, I've been around this league long enough to know how things work. You can scream and shout, sometimes your voice is not going to be heard. But that doesn't mean the cause that you're standing for is not worthwhile. I told those guys on that call, This fight's not over. Eventually, they're gonna come for the play, it's my belief. And then they're gonna come for something else. I heard Andy Reid, some of the comments he made on it, and that's the reality of it—Where does it stop? You start taking things away, look, it's a violent game, this is a dangerous game. We understand the risk. We're OK with the risk, that's why we're doing it. So I don't know where it stops, but I know it's not gonna stop here, and that's unfortunate.
MMQB: You know the play as well as anyone. Do you agree with the coaches feeling that because there'll be more squibs, knucklers and directional kicks, this could make it more dangerous?
Slater: That's a possibility. If there are more squibs, knucklers, line-drive kicks, the play could become a little more chaotic, and in turn could lead to more injuries. And the other thing is, there are no absolutes, right? I heard the gentleman from the league office say, this will reduce returns from 38% to 31%, which in turn should reduce head injuries by 15%. You can't predict that. You don't know what's going to happen. Head injuries could go up. We just don't know. It's football. So I understand, and I appreciate wanting to do what's best for players safety and health. As a player, nobody cares more about that than me. But let's do things that are really going to make a difference and not tinker with the fabric of the game.
---
The Dolphins' earlier dalliance with Dalvin Cook (and maybe a renewed one) is a window into the next phase of his career. Minnesota and Miami came very close to a trade that would've made Cook a Dolphin back in March, and what's interesting about the deal that fell apart then is how the vision the team trading for him dovetails with how the team trading him away sees him.
The idea, for Miami, was to add another big-play threat to an arsenal that already has two of the game's most explosive receivers, in Tyreek Hill and Jaylen Waddle, in the holster. And after that one came undone, and as Minnesota contemplated a price it'd be comfortable bringing Cook back at (which would be less than the $11 million he's due), the Vikings discussed using him more sparingly, as an explosive complement to Alexander Mattison.
Minnesota also drafted DeWayne McBride in the seventh round, and the Vikings like him as another depth piece, alongside Ty Chandler and Kene Nwangwu, to give more flexibility in their decision-making on Cook.
Would Miami still be interested? Maybe, though that desire for a big-play back was, at least to some degree, addressed in the third round of the draft, with ultra-explosive Texas A&M back Devon Achane coming in.
---
I believe Tom Brady means it when he says he is staying retired. The former Patriots and Bucs quarterback has been doing work to prepare for his job at Fox (I've heard he's studied front-line golf commentator Johnny Miller), he's working on buying a minority share of the Raiders, and I think he's genuinely looking to spend more time with his kids as they get older. (And I've said in this space from the start that his divorce was going to make it very difficult to play football anywhere outside of Florida.)
But there is a wild card here, and that's the fact that no one, not even Brady himself, knows how he's going to feel when camp starts in six or seven weeks, or when we get to Week 1 over the second weekend in September.
One thing those who know Brady best have always wondered was how he'd fill the competitive void that football would leave. And it's clear he's doing it by doing his best to stay busy, whether it's as a father, an aspiring sports owner or broadcaster or a pitchman. Still, until it's actually football season, and that alarm goes off in Brady's head signifying that it's time to buckle the chinstrap, it's hard to definitively say it's 100% not happening.
It should be noted that recently retired quarterbacks less accomplished than Brady (Philip Rivers is one; Jay Cutler's another) have gotten calls in recent years on coming back. So it's fair to reason, when injuries start to hit teams, Brady will get those, too. And the ask, at that point, won't be for a 12-month commitment.
So I'd say I'm pretty sure Brady's staying retired. But … yeah, I do think he'll stay retired.
---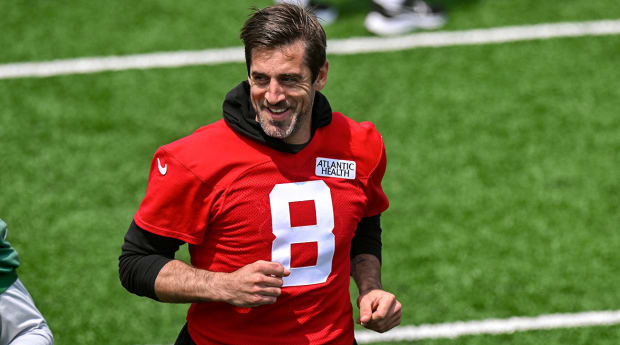 Aaron Rodgers really opened a vein publicly this week, in discussing his exit from Green Bay with Matt Schneidman of The Athletic. And my guess is this is probably just the beginning of some back-and-forth between the future Hall of Fame quarterback and his old team, as both have a vested interest in how the public digests their post-divorce fallout.
In Schneidman's story, Rodgers confirmed, again, his issue with the drafting of Jordan Love (he likes Love himself, for the record) and the Packers' handling of it, his problems with members of the organization and a new annoyance with the team's decision to trade away Davante Adams (Rodgers actually seemed like he understood the Packers' doing it at the time), while bristling at questions on his commitment over his last couple of years in Green Bay.
The Packers, of course, have a different version of how all this went down. And just last week, Romeo Doubs said he doesn't see much of a difference between Rodgers and Love.
The hard truth is this is just how it goes with these sorts of situations, and probably how it was always going to go with Rodgers. The PR turf war between the Patriots and Tom Brady raged for a couple of years, all the same as we've heard more details drip out on Peyton Manning's departure from the Colts (which was a little less ugly, because of Manning's injury and the presence of Andrew Luck in that year's draft) over the years.
So how does this end? The Packers will either win or lose with Love. The Jets will either get to a Super Bowl with Rodgers or they don't. In the meantime, we'll hear more from both sides of the story. And it'll all end a few years from now, with a ceremony to put Rodgers's name up on the wall at Lambeau. Right alongside the name of another quarterback, in Brett Favre, who was no stranger to sort of spat Rodgers finds himself in now.
---
The best way to wrap up this week is with a shout-out to a really good guy who did a really good thing—and that is Rams defensive coordinator Raheem Morris. Morris happened to be in the right place at the right time last weekend, on the scene as a 3-year-old boy was drowning in the pool at the Encore in Vegas. The child's father got him out of the pool, and, as the lifeguard started CPR, Morris went to work in trying to help.
"I saw people calling 911 so my first question was, where is the AED?" Morris told ESPN on Wednesday.
The lifeguard told Morris where the device was, and Morris rushed over to get it.
"When I got back, we had a doctor on site that was able to start the compressions," he continued. "I was able to hand the AED to him, get it open for him, put the pads on the child, and he ended up being OK."
Morris credited training he got from Rams head athletic trainer Reggie Scott in knowing what to do, and that training certainly has been emphasized among NFL teams since Bills safety Damar Hamlin collapsed on the field in January. (Buffalo actually gave its coaches CPR training this offseason.) Which, when you put it all together, is a pretty nice byproduct of a really tough situation.