This is an archived article and the information in the article may be outdated. Please look at the time stamp on the story to see when it was last updated.
(Dec. 18, 2014) – The clouds remain in place this morning with us tracking snow near St. Louis, Mo.  Snow showers will be possible for our area this afternoon as the system in Missouri is expected to weaken before arriving.  High pressure by itself isn't enough to thin out the persistent cloud deck that we have seen camped out on top of us for the past couple of days.  Don't expect to see any sunshine today.
Today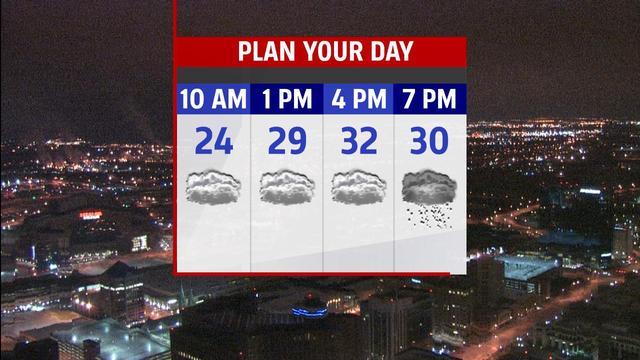 Unsettled weather sticks around with overcast skies and a small chance for a snow showers.  Don't let radar fool you as early morning readings continue to show a lot of snow moving our way.  The snow should break up before it arrives here in the state with only isolated snow showers expected.  High pressure and stable air should be too much for the mid-level low to overcome.  I think everyone will see some flurries falling this afternoon into the evening hours but anything heavy enough to turn the ground white will be isolated.
Winter officially begins this Sunday, but temperatures will remain winter-like today with highs struggling to hit the 30s.  The 30-year average high for today is 38°.  Today's winds will be out of the northwest at 2–5 mph.
Friday into the weekend
It now looks dry.  In fact even Saturday's chance for some snow has pretty much dried up.  Every new model run continues to strengthen our own high pressure and push the impending moisture to the south.  While I expect some adjustment to the north of the track of the low pressure area, the track is now so far south that even a major jump to the north would likely still keep most if not all of central Indiana dry.
Monday through Christmas Eve:
Rain chances will go up on Monday and will continue through your Tuesday.  By late on Tuesday, rain chances will turn over to snow chances with some light snow falling for the rest of the day into early Wednesday.  Temperatures during this time will fall into freezing territory.  At this point we may see a dusting of snow ahead of Santa's Wednesday night arrival.