This is an archived article and the information in the article may be outdated. Please look at the time stamp on the story to see when it was last updated.
We finally see some sunshine today after more than a week of overcast skies.  The sun should help to push temperatures into the upper 30s today with 40s being possible over the next couple of days.  Rain chances begin to build on Monday afternoon with the arrival of a warm front with a passing shower or two possible Monday afternoon into the evening.  Rain rates will pick up overnight into Tuesday with perhaps up to a tenth of an inch of rain falling per hour in a couple of communities.
Today: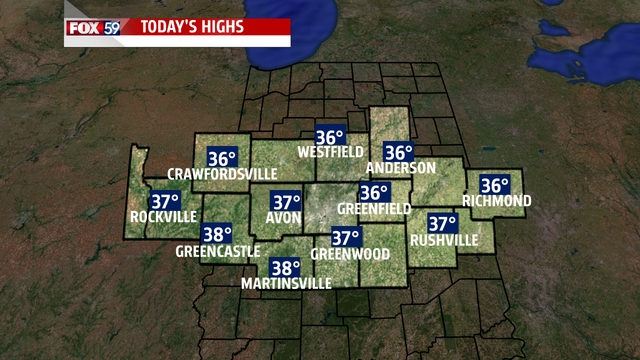 Winter officially arrives today at 6:03 pm.  I plan on having a separate post about the winter solstice later on today.  Personally, while I don't mind winter, I think the best part is when it's finally over.  Speaking about just the weather as I said earlier it looks like the clouds have broken and we should see slightly warmer weather today.  Some small changes occurred when it comes to the dynamics of our atmosphere with the main change being the push of warmer temperatures in our lower just above the surface layers but below the layer of warm air that has kept us inverted for the past week.  This means our atmosphere returns to a more normal pattern with the warmest air likely being at the surface today and the start of Monday with no layers of warmer air sitting on top.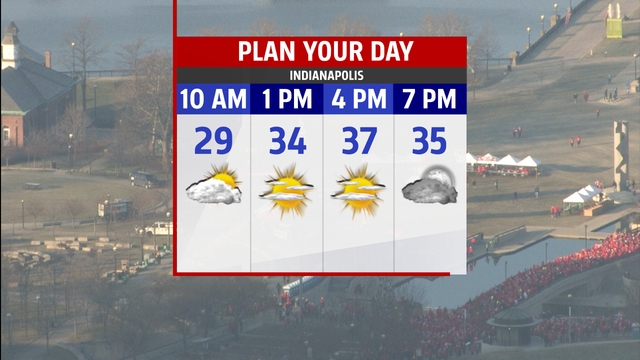 While this change will be enough to clear out our skies it will take a day or two to actually move the very cold and dry air mass in place.  Highs today will top the mid-30s with a couple of places south of I-70 hitting 40.   Skies will stay mostly clear throughout the day.
Monday to Christmas Eve rain and snow:
It looks like we could see a little bit of everything leading up to Christmas Day.  Let's start with Monday as a late morning to early afternoon warm front will bring a brief chance for sleet followed by light rain for the afternoon and evening hours.  Rain totals through midnight could reach a tenth of an inch.
Rain rates will pick up overnight from Monday into Tuesday morning.  By Noon on Tuesday we could have a number of communities with rain totals above a half inch including here in Indianapolis.  Temperatures will be warm though with highs in the mid to low 50s for the day.  Winds will be gusty at times.
By late Tuesday afternoon into Wednesday morning rain will continue but will be lighter.  We remain mild through Wednesday morning. Things begin to change after that with the passage of a cold front.  Winds pick up with perhaps a wind advisory issued.  Temperatures begin to head down as well with afternoon temperatures in the mid to low 30s.  By the end of Wednesday the light rain and mist will turn over to light snow.  I don't think with temperatures that we need to be too concerned with freezing rain but sleet and or graupel will be possible.  Overall only minor accumulations at this time are expected due to surface temperatures.
Christmas Day:
The official definition for a white Christmas is an inch of snow on the ground at 7am in the morning.  That is likely not going to happen.  Highs on Christmas should be just over 32 degrees with most of the day spent with temperatures below freezing.  Merry Christmas and a happy New Year to everyone.