This is an archived article and the information in the article may be outdated. Please look at the time stamp on the story to see when it was last updated.
WARMEST OF THE MONTH
What a Monday weather-wise! Warmest of the month and still rising at 3pm. 57° city, up 18° from same time Sunday. Other area temps 62° Bedford 60° Seymour.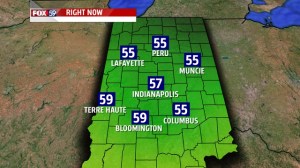 WINTER STORM WEDNESDAY
Classic battle of 2 seasons this week as expected: Could have 60° temps Tuesday and also have a winter advisories expanded. Winter is back Wednesday with rain to snow in city after sunrise. Surface low track still needs some firming up but since last week we've been leaning heavily toward the Euro solution on this storm, so will not waver.  Band of 3″ to 6″ snow possible north of the storm track.  I'm posting the snow accumulation map off the Euro model and the surface weather map Wednesday 8 AM.  Highest totals will target the areas north of the city and where rain changes to snow earliest given this storm track.  Model average snowfall for the city is at 3.8″ with a spread of 1.4″ to 4.4″  Gusty winds will accompany the storm as it deepens and races east Wednesday night as much colder air pours in behind the storm
Winter storm watches already being hoisted over parts of the state. Parts of northern Indiana under watch from 12 AM to 5 PM Weds. More counties will likely be covered in a winter watch or warning come Tuesday afternoon. Stay tuned for updates.