This is an archived article and the information in the article may be outdated. Please look at the time stamp on the story to see when it was last updated.
EF 1 TORNADO WEDNESDAY
Confirmed from the national Weather Service out of North Webster Indiana Thursday afternoon.  The tornado touched down just west of Peru while embedded in a larger cluster of straight line wind producing thunderstorms.  The tornado path of 3.5 miles long crossed the Wabash river and intensified to an EF 1 rates tornado with max wind speeds of 95 mph.  This is the 9th tornado in the state of Indiana this year.  The average number of tornadoes in Indiana each year is 22 with a record of 72 tornadoes here in 2011.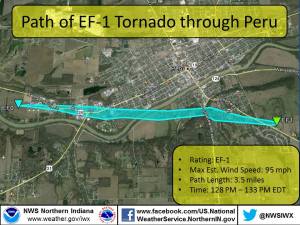 COOL NIGHT COMING
Area temperatures will drop into the 50's tonight with the passage of a cold front last night.  The forecast of 59° in the city would make this the coolest night here in 27 nights!  Are air conditioners can take a break tonight and rest up – heat and humidity build again this weekend.
HUMIDITY DROPS
The dew point tanks Thursday in the wake of last nights cold front.   The thick,  Central American-like humidity has been wiped out and replaced with air more typical of northern Minnesota and Wisconsin.  The relief is welcome – it is the driest,  least humid air here in 9 days.
WELCOME SUNSHINE
The skis over central Indiana brighten Thursday – making this the sunniest day here in 2.5 weeks.  While not completely clear – the fair weather cumulus will dissolve just after sunset.  Official there was 4/10 of cloud cover Thursday the least since June 22nd.
NO 90 YET
This is the longest wait for our first 90° day here in 9 years.  Officially we hit 89° 4 times this year – so where is the heat?  The western U.S. has baked this year.  Look at the number of 90 degree days in the Mountain West compared to Indianapolis.
Number of 90's
Salt lake City, Utah 26 days
Boise, Idaho
22 days
Billings Montana
2