This is an archived article and the information in the article may be outdated. Please look at the time stamp on the story to see when it was last updated.
SCATTERED STORMS MONDAY
Monday showers and storms started to diminish during the late afternoon hours with skies brightening from west to east.  Heavy rainfall totals from Western Indiana ranged up 1″.  In the city, rainfall officially was .47″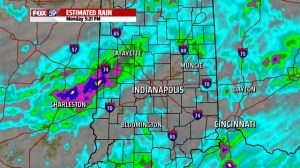 Storms east of the city briefly produced a small funnel cloud over Hancock County shortly after 4 p.m.  The rotation was weak and the environment was not supportive of tornadoes.  The following image was captured looking south from Greenfield: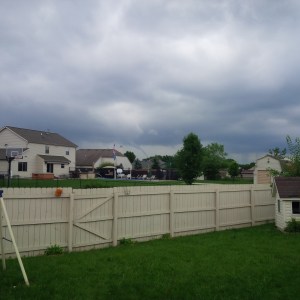 STORM CHANCE TUESDAY
The sticky air will hold overnight but this round of humid weather will not last long.  A cold front will drop south early Tuesday, activating showers and storms ahead of it.  The tropical air is buoyant, energetic and supports strong to severe storms.  Currently, the southern half of the state looks supportive of gusty or severe storms early in the afternoon.  The Storm Prediction Center has outlined a portion of the state for a potential watch box Tuesday.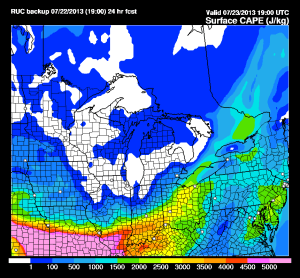 HEAT AND HUMIDITY TAKING A BREAK 
The passing cold front will deliver a wonderful brand of air here for late July.  The tropical air will be wiped away and local air conditioners may take an extended break!  Our temperatures are likely to dip into the 50's, making this the coolest air in about two weeks.  The official temperature at the airport has not dipped below 60° since late June and we have a shot at it come Wednesday morning.
RACE WEEKEND
A new cold front will bring a storm chance again late Friday night and early Saturday morning.  This front will settle south Sunday morning and current thinking is that Race Day will be pleasant and more comfortable again.  Stay tuned this week for further updates.