This is an archived article and the information in the article may be outdated. Please look at the time stamp on the story to see when it was last updated.
It is a mostly clear and quiet morning across central Indiana. Temperatures this morning fell into the mid to upper 60s across the area. The sunshine and more comfortable temperatures are not going to stick around all day. We are tracking a chance for scattered rain and thunderstorms this afternoon and near-record high temperatures! Indianapolis will have a high near 91° this afternoon, which is three degrees short of the record set back in 1913.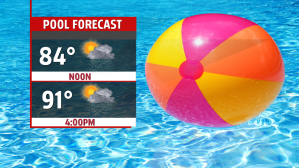 Scattered rainfall will move into our northwestern counties after 10 a.m. EDT with coverage increasing across the state during the afternoon hours. A few storms may become strong and potentially severe because of the high heat and humid conditions. The main threats include gusty winds, frequent lightning, hail and heavy downpours.
The thunderstorm activity will linger into the early evening hours. A stray shower could be around at times during the overnight. Otherwise, you can expect a mostly cloudy sky with lows in the upper 60s and lower 70s.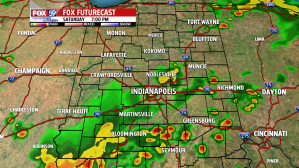 Highs tomorrow are going to be slightly cooler and will reach into the mid-80s. There are several storm chances in the forecast this week. The driest day will fall on Wednesday with a high near 86°. Forecast models are showing the potential for highs in the 90s next Saturday.