This is an archived article and the information in the article may be outdated. Please look at the time stamp on the story to see when it was last updated.
Did you enjoy the dry day?  The next couple of days will see a rainy pattern moving back in with rain arriving as soon as the late morning hours for parts of Central Indiana.  Rain showers should move through today with a couple of isolated storms rolling through the state tonight.  Monday storms could turn severe with straight line winds the main concern.  The environment also points to an elevated tornado risk on Monday lasting perhaps into Tuesday.
The next 24 hours: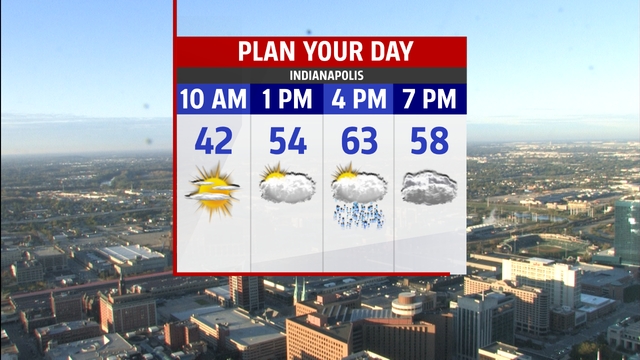 Mostly clear as we start the day.  I noticed a thin layer of low clouds as I came into work today and that is likely the reason temperatures in Indianapolis have remained in the low 40s as we start off the day.  There are frost advisories to our north this morning.
Highs today should return to the 60s after failing to hit 60 degrees yesterday.  Yesterday we hit 57 degrees as the clouds proved too much.  Winds should shift and will begin to come in from the east from 5 – 10 mph.
Rain and some storms will be possible as we head into the overnight hours.  In spite of the rain, temperatures will be going up overnight tonight.  We will go from a high of around 63 degrees today to an overnight low of about 60 degrees overnight.  This heat and the added humidity as well will prime the pump for severe weather as we head into the workweek.
Severe Weather Threat: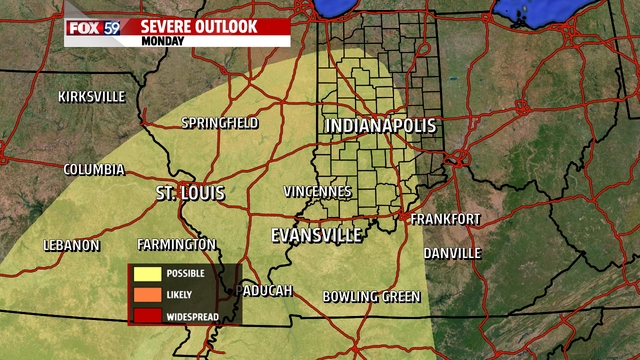 At this time Monday has been highlighted by the storm prediction center as having a slight risk for severe weather.  There are timing concerns right now with the cold front not pushing through until Tuesday evening.  At this point it looks like there will be two rounds of severe weather with the first arriving on Monday afternoon.
Highs on Monday will be in the 70s thanks to the surge of warm air from the south.  This warm front arrives tonight with temperatures likely staying the same or possibly ticking up overnight.  With the warmer air comes the threat for storms.  I expect to see a couple of isolated weak non-severe storms overnight tonight and throughout the day.  The rain/storm chance will continue through Monday.
By the late afternoon hours on Monday, we could see a line of storms developing off to our west.  This line should slide along and just south of I-70 with strong winds being a main concern.  It appears there will be a tornado risk down state as well.  The cold front won't slide through until Tuesday so we could see more severe weather developing on Tuesday.  Right now the SPC has not included us on their Tuesday severe risk.