This is an archived article and the information in the article may be outdated. Please look at the time stamp on the story to see when it was last updated.
While you were sleeping Indianapolis received 0.03" of rain.  More rain is heading our way and will arrive this afternoon.  While we wait on round two of rain, temperatures will remain mild.  Lows remained in the low 40s today and I expect highs to hit the 50s similar to yesterday on the backs of strong southerly winds and a warmer air mass in place.
Today's Rain: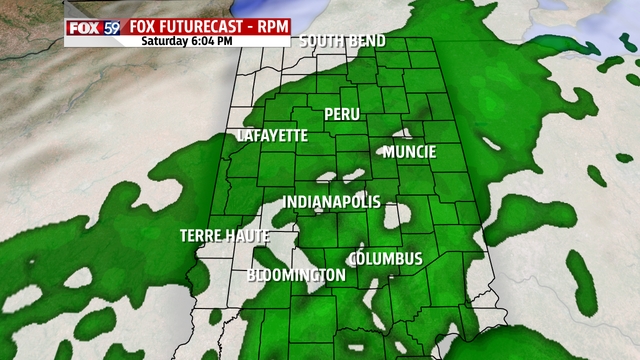 Round one has pushed through and a second round is on the way.  For the second round we could see up to an inch of rain for some places to our south, but most places will see closer to a quarter of an inch along and south of I-70.
Our second round of rain should move in after 2 pm with scattered off and on rain at least being possible for the remainder of the day. A cold front will enter the state after 5 pm and should slowly push through the state.  Strong winds are expected tomorrow morning behind the front making it feel colder than it actually is.
Next week:
Winter is set to return next week with a mostly dry but frigid work week expected.  From Monday through Friday the warmest day of the week is forecast to be Friday with highs in the upper 30s.  Monday's highs will be in the mid to upper 30s.  Tuesday through Thursday we will see temperatures struggle to hit the 30s.  New Year's Night could be especially cold with morning lows dipping to the teens on both Wednesday and Thursday morning.