This is an archived article and the information in the article may be outdated. Please look at the time stamp on the story to see when it was last updated.
INDIANAPOLIS, Ind. --Good Saturday afternoon! The sun made an appearance this morning with clouds becoming a bit thicker this afternoon in spots. I'm expecting a warm front to lift north across the area tonight and lead to increasing clouds. Temperatures will hold steady for most of the night with a low near 30 degrees. While the radar shows some precipitation across our northern counties in Indiana, the atmosphere is very dry so at best, there's possibly a few flurries tonight.
Sunday will bring a mostly cloudy sky with highs in the mid-40s as a weak cold front passes through. Winds will be out of the west at 10 to 15 mph. That same front will stall across the area and then lift north as a warm front again on Monday, triggering showers and a nice rise in temperatures to the low 50s.
Central Indiana will be in the warm sector of a developing mid-latitude cyclone on Tuesday and therefore, we'll see highs in the low 60s during the day with strong southwest winds. Showers will be likely with the possibility of thunderstorms. An early look at data shows some t-storms may be strong to severe Monday night across the southwest part of the state. Some strong to severe t-storms are also possible in central Indiana on Tuesday.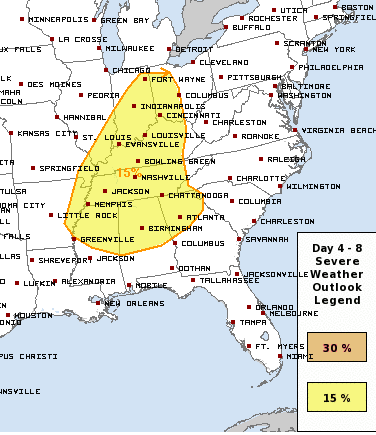 A strong cold front will push through on Wednesday with falling temperatures and strong winds. Moisture looks limited by the time the cold air moves in but we may see a brief rain to snow mix early Wednesday.
Models do not agree on what comes Thursday. Two show a clipper system moving through with some snow across southern Indiana and possibly central Indiana while another model shows dry conditions. I'll put a chance of snow in for now and continue to monitor. Check back for updates! --Danielle Dozier