This is an archived article and the information in the article may be outdated. Please look at the time stamp on the story to see when it was last updated.
INDIANAPOLIS, Ind. –Good Sunday evening! A wintry mix continues across central Indiana and that mix of sleet, freezing rain, rain and snow will continue tonight. An upper-level low-pressure system will move across the Upper Midwest and Great Lakes leading to additional moisture overnight. Temperatures will hover around freezing for many across the northern part of the state where several inches of snow has fallen. It is in these areas where traveling will be more hazardous. A Winter Weather Advisory continues for Howard and Carroll Counties until 1 a.m.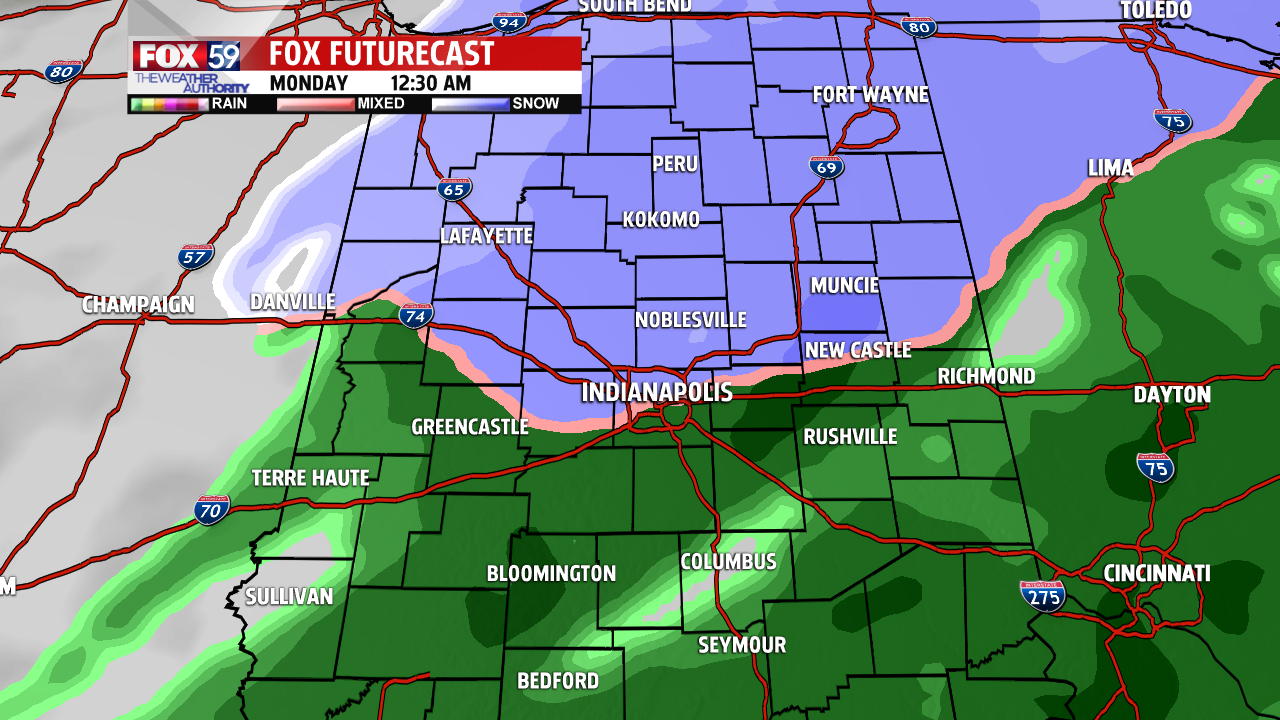 Temperatures in Indianapolis will be just above freezing tonight but we'll still have to watch for some slick spots, especially on bridges and overpasses as we've had some reports of freezing rain on elevated surfaces such as trees today. Overnight sleet may also lead to slick spots in places. Flurries are possible through Monday but the heaviest moisture will have moved out during the late overnight hours.
Snowfall reports range from 2 inches in Battle Ground, to 1.2 inches in Anderson, 1 inch in Lafayette and 0.7 inches in Frankfort which is right in line with the forecast. Only a trace of snow is the official in Indy which means we have yet to see measurable snowfall this season! We'll see if we can accumulate any snow overnight.
Additional snowfall and sleet accumulations of up to 1 inch are possible from near Indy and north through Monday. Mixed precipitation which will cut down on snow amounts.
Wind chills tonight will range from 24 to 27 degrees with a breezy west wind. Temperatures will hold steady in the mid-30s overnight. A cold front moves in Monday morning and temperatures will fall into the upper 20s by morning with wind chills between 15 and 20 degrees. We'll have thermometers hovering in the upper 20s and low 30s through the day on Monday.

Tuesday will bring highs in the low 30s with a slight chance of flurries or light snow. It will turn much colder into the middle to end of the week. Highs on Wednesday will be in the low 20s while single-digit air temperatures will arrive by Thursday morning! Another storm system will move in Friday into Saturday and bring a chance of snow on Friday and wintry mix Saturday. Winds look to be rather strong on Saturday as well. Stay tuned! –Danielle Dozier