This is an archived article and the information in the article may be outdated. Please look at the time stamp on the story to see when it was last updated.
FRIDAY STORMS - SLOW MOVERS
Blooming in the heating of the day, scattered thunderstorms delivered locally heavy rainfall in widely scattered fashion through the evening hours.  One of the first storms of the day developed right over downtown Indianapolis  before 2 PM this storm produced small hail and very heavy rainfall.
As the afternoon progressed a very slow-moving storms grew to 38,000 feet over Tippecanoe county and delivered intense rainfall, and accumulating small hail over Lafayette and on the campus of Purdue university.  Radar estimate 1.50" to over 2" of rainfall causing street flooding for evening commuters.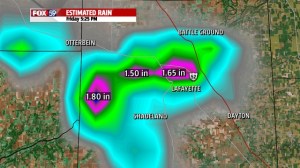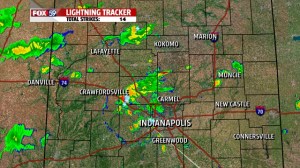 STORM CHANCE SATURDAY
Weather repeat for Saturday - opening with haze and fog then scattered showers and thunder showers will develop afer noon.  Any storm Saturday could produce locally heavy rainfall but don't cancel plans.  Coverage on the rain may reach 30% by afternoon.
JULY COOLEST EVER
it is official, just two years after the hottest July and month ever - July 2014 ends with an average temperature of 70.1° edging out 1947 for first place.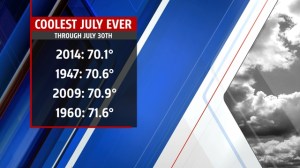 HEATING UP NEXT WEEK
The stretch of cooler than normal weather rolls on with afternoon high temperatures failing to reach 'normal' for 60% of the days this summer.  The warmth next week looks dependent on storm clusters, likely to make a return by Wednesday.  Overnight computer runs have locked d into the storm chances by Wednesday offering lower afternoon high temperatures and lowered prospects of a 90° day.  Stay tuned, still several days out - we will have better timing on the storms and their impact on temperatures.  Currently no official 90-° yet for the city.  324 days and counting since the last 90 on September 11, 2013