This is an archived article and the information in the article may be outdated. Please look at the time stamp on the story to see when it was last updated.
Overnight rain and isolated storms will continue throughout the day today.  Overall most of your day will be dry, but if you check radar there will be storms around.  Most of the storms will be located throughout the day east and south of the city.  We do not expect to see any type of severe weather outbreak today, but lightning and small hail will be possible.
Today's Forecast: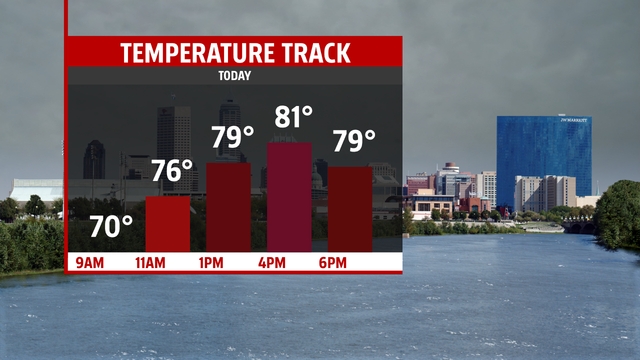 Expect a cloudy start to the day as the mid-level low continues to pass us by.  We will see a little sunshine late in the afternoon.  Winds will be out of the northeast throughout the day.  This is generally a dry wind and will help to limit the amount of rain that will fall.  Many places will be dry all day long.  Others will see upwards of a quarter inch of rain as these slow moving storms fire right on top of them.
Highs today will hit the low 80s again with a forecast high of 81 degrees for Indianapolis.  Places west of the city will see the warmest temperatures this morning with places off to the east having a better chance for a passing shower or storm along with lightning and hail.
No 90s In Forecast:
After holding out hope that we would make a decent run at 90 degrees on Wednesday it looks like the hope is dead.  Through this weekend Indianapolis has failed to hit the 90s so far this year.  There's only been one year where the city of Indianapolis has failed to hit 90 degrees.  That was back in 2004.  It's beginning to look like there will be a real chance to not hit 90° this year.  If we don't hit 90 degrees in the next there weeks I don't think we do it all summer.