This is an archived article and the information in the article may be outdated. Please look at the time stamp on the story to see when it was last updated.
It's has been a beautiful and sunny day here in central Indiana. Temperatures ended up in the mid 60s which leaves us around 10 degrees below normal for this time of year. Skies remain clear tonight. This combined with low dew points and light winds will allow temperatures to fall to very chilly levels. Lows are expected in the mid to low 40s for Tuesday morning. Average overnight lows should be closer to 53°F.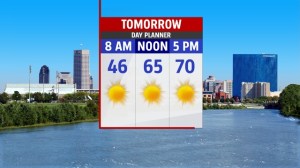 TUESDAY:
Sunshine will be the name of the game again on Tuesday. While the morning will be rather chilly for September standards, temperatures will climb quickly throughout the day. Temperatures should make it into the mid 60s by noon and continue to climb to around 70° during the mid afternoon hours.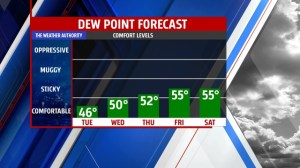 EXTENDED:
High pressure will have a hold on our weather this week. With winds coming in from the east, dry air will continue to move into our state which ensures a dry forecast through the coming weekend. With time, dew points will slowly climb but it won't really feel sticky at all this week. Dew points will finally climb a bit higher this weekend as moisture returns. This will help build for our next chance for rain on Sunday.