This is an archived article and the information in the article may be outdated. Please look at the time stamp on the story to see when it was last updated.
We are tracking hot and humid weather for the weekend. Highs this afternoon are going to soar into the lower to mid-90s, making today the start of our third heat wave in Indianapolis this year! Indianapolis will climb near 93° this afternoon, which is a few degrees shy from the record of 96° set back in 1913. Dew points in the 70s will make it feel sticky through the afternoon. The high heat and humidity over central Indiana will make feel even hotter outside during the heat of the day. Be prepared for heat indices near 100° today and through the weekend. If you have outdoor plans, stay hydrated and take several breaks.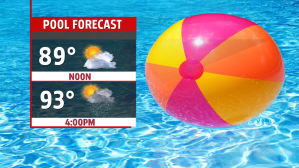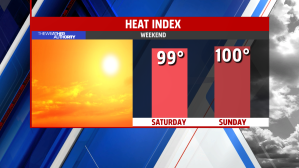 With high heat, humid conditions and light winds in the forecast, several counties across the state are under an air quality alert. A Knozone Action Day has been declared for Indianapolis on Saturday and Sunday.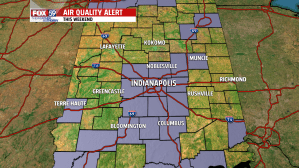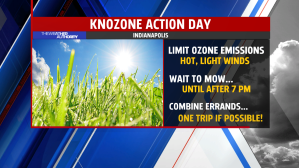 The viewing area is going to be mainly dry through the weekend. However, there is still a slight chance for isolated showers and thunderstorms to fire up this afternoon. FOX Futurecast shows a few cells firing up during the heat of the day. Skies will become mostly clear tonight as lows fall into the mid-70s.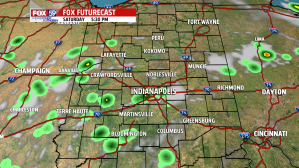 The 90s are going to linger into the next work week with temperatures falling back into the 80s by Wednesday. Higher rain and storm chances return to the area next Tuesday and Wednesday.