This is an archived article and the information in the article may be outdated. Please look at the time stamp on the story to see when it was last updated.
ABOVE NORMAL STREAK REACHES DAY 7
The temperatures jumped Thursday after the passage of a warm front, the first of two over the next 24 hours.  Starting in the middle 20s early Thursday, the afternoon temperature reached and topped 50° just southwest of Indianapolis. Through 5 pm the high reached 48° - the 7th straight day above normal .
To date this winter has jumped to the 27th warmest on record (and now trail last winter by 1°) with February alone now running 7 degrees per day above normal.   February 2017 now ranks 17th warmest and warmest since 2005!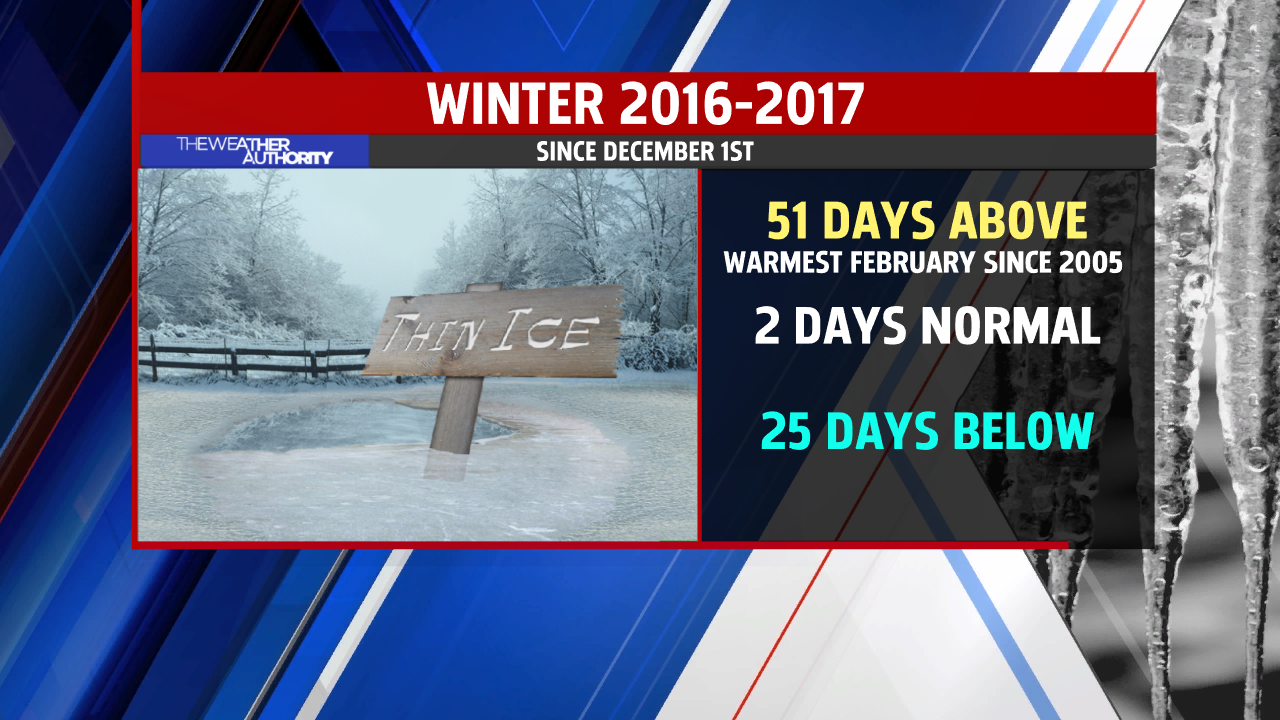 NO COLD
The lack of the polar branch of the jet stream is stunning.  Little to no ice on the Great lakes (under 10%) allowed lake effect snow showers to persist well into mid-February, evident on composite radar images Wednesday evening.  The lack of snow cover across the nation is impressive.  Down 30% form the same time last year, only 28.9% of the contiguous U.S. is snow covered - the 4th least for the date since these records began 14 years ago.
WARMING FAST
A new warm front will sweep the state starting Thursday morning and an extended stretch of April level warmth expected through the weekend and into next week.  High temperatures will push 25° above normal and near record levels Saturday, Sunday and Monday.
EXTENDED SPRING-LIKE SPELL
The current forecast brings Monday's high to near the 70° mark.  Only 11 February's on record have produced 70° days and only one February has produced multiple days (3) in 2000.  Last year was one of those years. We set the record of 72° on February 20th as a powerful, wind driven storm swept the Midwest.  This Monday could touch 70° but is not expected to tie or break the record.  Stay tuned!  The average date of the first 70 degree day is March 18th.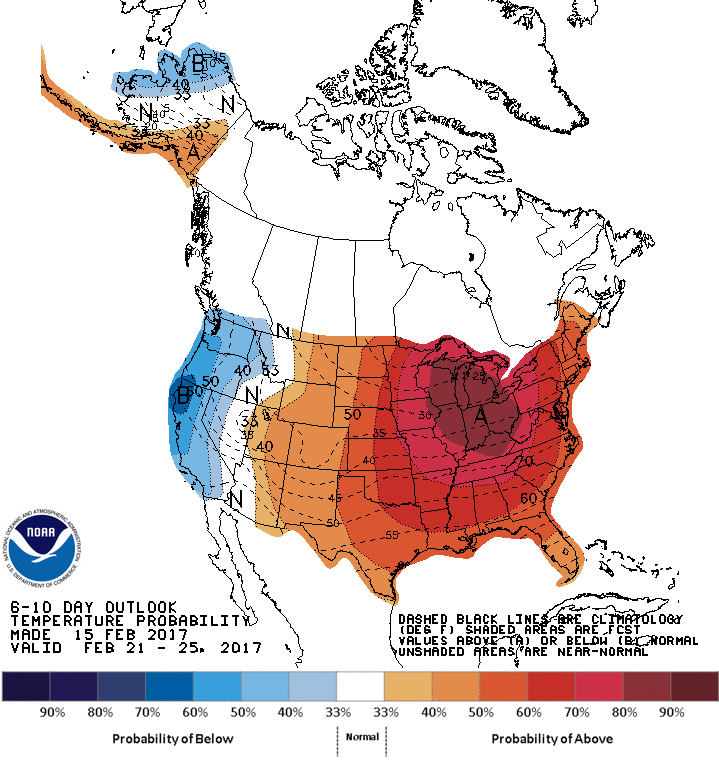 ANY SIGN OF WINTER?
We are do for a pull back in the cold - we just can't sustain this level warmth.  Off the overnight computers the medium range forecast (days 8 to 14) are showing a upper air pattern shake up.  Much colder air appears on the move by next weekend.  I'm posting below the upper air (jet stream) forecast off the EURO model for next Sunday.  Colder air looms in this most recent extended forecast over upper Midwest.  We will monitor trends.