This is an archived article and the information in the article may be outdated. Please look at the time stamp on the story to see when it was last updated.
APRIL RAIN, SLEET AND SNOW SHOWERS
More rain, sleet and snow showers move about central Indiana Friday late afternoon.  From sunshine to heavy downpours of sleet and mixed snow.  Strange weather for spring but not uncommon.  April sun vs. unseasonably cold air are the ingredients for such odd weather.
WHY IS IT SLEETING?
The sun angle is higher and sun strength is stronger but the chilly air at the surface sets the table for unstable air.  The 'heating' of the sun by late morning will cause the air to rise, making contact with the low level cold allowing clouds to build.  First as puffy cumulus clouds then as heating increases into the noon hour, these clouds continue to build then produce precipitation.  Snowflakes start to fall then melt to rain drops only to freeze again before reaching the ground.  Sleet, falling at times rather vigorously and at time a few snow flakes make it down to early as well.
WET SNOW SHOWERS TONIGHT
later tonight, after the sun sets, colder air and a passing cold front will allow a wet snow and occasional snow showers at times.  These may produce big, wet snowflakes at times and briefly accumulate.  The snow showers will taper and diminish after 3 - 4 am.  Travelling late you could run into reduced visibility and brief slick spots.
HARD FREEZE THIS WEEKEND
Temperatures remain cold for Saturday and may struggle to reach the 40° mark.  A few flurries are possible early, then clouds will build and a few isolate rain/snow/sleet showers could develop.  More stable air returns Saturday night and clearing will commence around sunset.
Temperature lows will likely reach hard freeze levels both Saturday and Sunday morning - meaning low temperatures into the middle to upper 20s.  A freeze warning is in effect for Saturday and Sunday morning.
WINDY WARM UP TO END THE WEEKEND
Strong winds will blow Sunday afternoon and temperature will be on the rise.   Rain showers are yto develop by evening but plenty of dry time should allow area temperature to jump inti the upper 50s to near 60° by evening.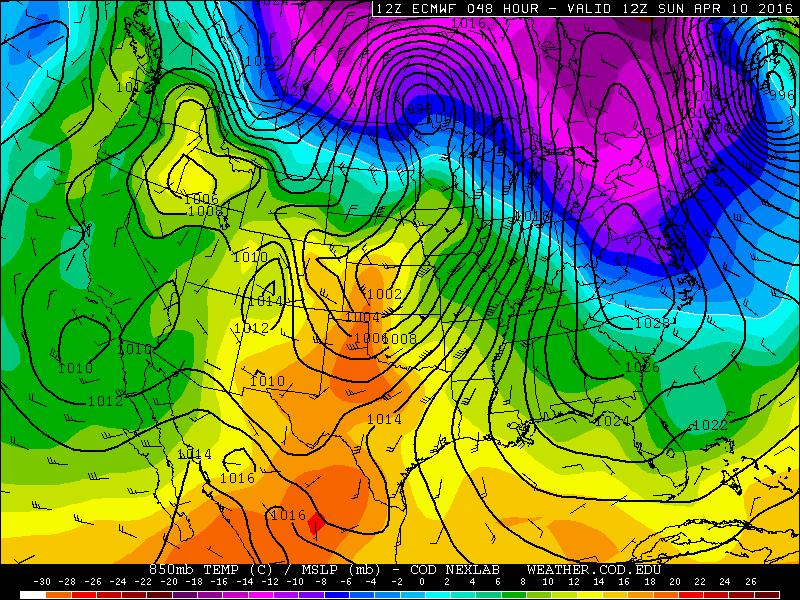 PATTERN CHANGE
This could be one of, if not the last very chilly surge of the season.  We certainly can't write off another night around freezing - the average date of the last freeze is April 16th but the latest date is may 27th 1961!  At least longer range there is improvements.  I'm posting the upper air patter for next Friday.  The current thinking is that we will have cool mornings and warmer days reaching the middle to upper 60s by Friday afternoon.