This is an archived article and the information in the article may be outdated. Please look at the time stamp on the story to see when it was last updated.
(Dec. 30, 2014) - No doubt arctic air is on the move across the country and starting to seep into the state at this hour.  Quite a contrast in those temperatures from Valentine, Neb., to right here in Indianapolis.
As the day progresses, expect some sunshine and dry weather to continue but temperatures will struggle to budge above 30°.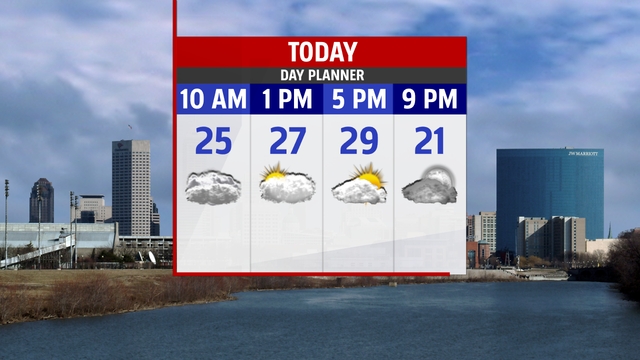 Skies are clear tonight and temperatures will tank under colder, drier air.  Expect temperatures in the lower teens and wind chills in the single digits to start out the last day of the year.
Fairly quiet (dry) weather but frigid temperatures will persist to open the New Year before a slight "warm up" into the weekend...and I mean very slight!  Here is a look at tomorrow night (New Year's Eve) but keep in mind wind chills will be near 0° by midnight.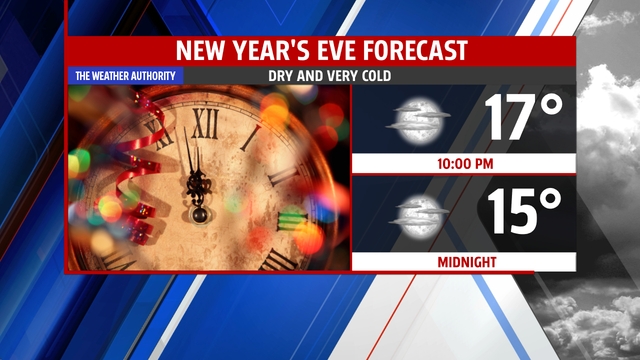 We continue to monitor a possible storm for the weekend, but it's too early to know exactly what will fall. I can tell you that Saturday looks to be the best day for this system to arrive and early signs point to a wintry mix of sleet/snow and freezing rain mixing eventually to rain, as temperatures slowly climb.  The onset of this system could create some travel issues but expect to see improvements throughout the day.  Look for more updates in the days ahead.