This is an archived article and the information in the article may be outdated. Please look at the time stamp on the story to see when it was last updated.
INDIANAPOLIS, Ind. (Dec. 23, 2014)– Rain will continue to move into central Indiana from the southwest tonight. Temperatures reached the mid-50s this afternoon in the city, marking the warmest day all month! The graphic below shows the radar at 4:30 p.m. You can see the rain that will move in over the next couple of hours.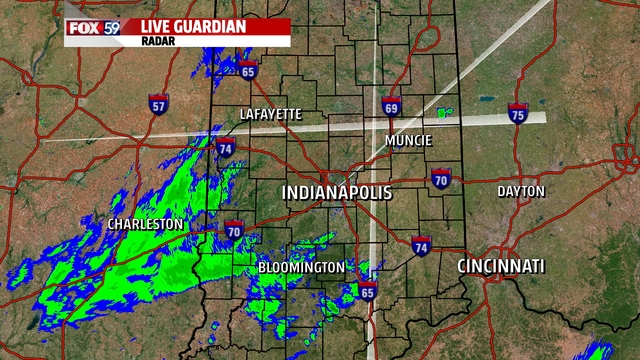 In fact, FOX Futurecast shows rain becoming more widespread tonight and some will be heavy at times overnight. Expect to use the windshield wipers tonight and tomorrow during much of the day.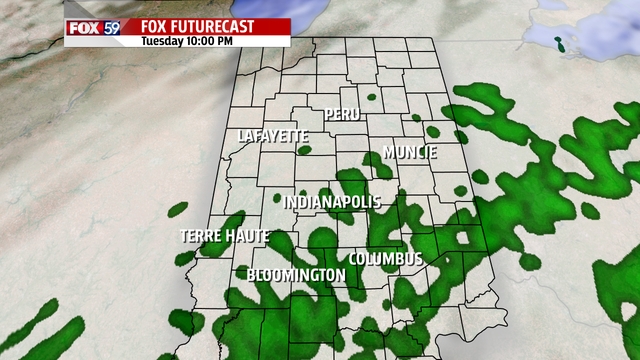 Models are consistent in showing rain mixing with snow across central Indiana after 5 p.m. Wednesday. Northwest Indiana may see the changeover a bit sooner. The true definition of a "White Christmas" is one where there is one inch of snow on the ground Christmas morning.
As of the latest data, it appears northwest Indiana may see this come true! One to two inches of snow is likely there. In fact, Lake County may see more than two inches of snow! Winter Weather Advisories and Winter Storm Warnings are already posted for extreme northwest Indiana and parts of the Chicago metro.  A dusting to 0.50 inches of snow is possible across parts of central Indiana. The ground temperatures are warm, so expect most of this accumulation to be on grassy surfaces. Still, roads will be wet and winds will be strong making for messy travel. Visibility will be reduced due to blowing snow.
A few flakes may still be flying Christmas morning, but expect a dry afternoon. Clouds will stick around with high temperatures in the upper 30s.
Friday looks dry with warmer weather before another chance of rain and snow moves in Saturday. Much colder air is expected by Sunday into your New Year's holiday.