This is an archived article and the information in the article may be outdated. Please look at the time stamp on the story to see when it was last updated.
FRONT STALLS
A whopper of a temperature spread across the state Monday afternoon.  It's like 2 seasons crammed into one state with a stalled front snaking its way through the heart of Indiana.  At 6 PM the temperature in Marion (Grant County) stood at 61° while 125 miles south, Bedford (Lawrence County) and Seymour (Jackson County) were into the middle 80s!  The front holds stationary again Tuesday setting the stage for another big north to south temperature spread.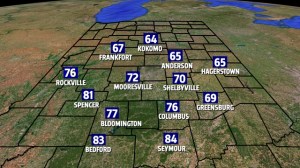 SHOWERS OR A STORM OVERNIGHT?
The stalled front along with a nighttime jet stream may be enough to spark a shower or thunderstorm well after sunset.  Hi resolution, hourly computer models hint at a skinny batch of showers and a few storms through central Indiana.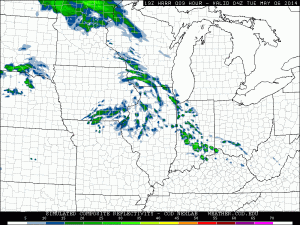 EARLY HEAT OUT WEST
Blazing heat returns today in central/southern Plains 103° so far Atlus, OK and it continues through Wednesday.  Some of teh earliest 100° days have been reported across Oklahoma. The warmth expands east – sending area temps above 80° for first time this season and since October 4th 2013. Now 213 days since last 80°, ranks 19th all-time for number of days between 80s
COLD SPRING 2014
Monday marked the 6th straight day below normal and the 39th day below normal since March 1st.  Meteorological Spring (the months of March, April and May) have been cold!  59% of the days have been below normal and the average temperature of 44.7° now ranks this spring as the 19th coldest to date!