This is an archived article and the information in the article may be outdated. Please look at the time stamp on the story to see when it was last updated.
COOL DOWN CONTINUES
Clouds are holding back afternoon temps but clearing is coming overnight.  We will cool to frost levels early Thursday morning so make sure to cover and protect those plants.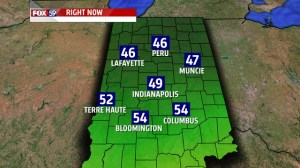 NEXT COLD FRONT THURSDAY
Very chilly air is headed our way for the weekend and begins with a passing cold front late Thursday. A few showers could arrive later Thursday night.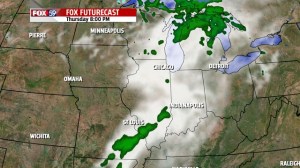 HALLOWEEN 2014
The all important outlook for Halloween is a frightfully cold one.  Winter will come 'back to life' as winds 'howl' and 'chills' dive into the 20s by 10 p.m. Friday night.  A few 'frightening' snowflakes could develop as showers scatter and diminish late. Many rain free trick-or-treat hours are likely but don't be to scared if you see some snow.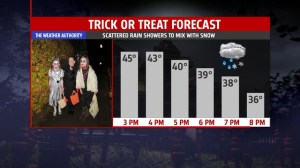 COLDEST OPEN TO NOVEMBER IN 12 YEARS
Afternoon high temperatures may struggle to reach the 40° mark Saturday afternoon – the first of November.  The forecast high of 43° Saturday is the normal for December 3rd and 16 degrees below the normal of 59°.  Low temperatures both Saturday and Sunday morning go below freezing in the city with a area-wide hard freeze (middle 20s) likely on Sunday morning.