This is an archived article and the information in the article may be outdated. Please look at the time stamp on the story to see when it was last updated.
It was brief, there were only a few storms and in a matter of moments a tornado touches down in Boone county Thursday afternoon.
A state trooper spotted the funnel at 3:11 p.m. but radar indicated only very week rotation.  Several minutes passed and no warning was issued until the funnel reached the ground – now a tornado – at 3:25 p.m. and damages a barn near east of Whitestown.  Frightening moments for residents in Boone county.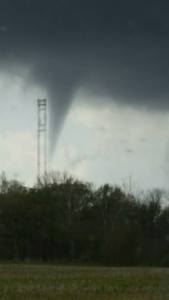 Ingredients were not that favorable for a tornado to develop or for that matter many thunderstorms. While only a handful of storms formed three storms showed rotation with only one producing a tornado Thursday afternoon along a warm front.
Looking back at wind velocity data at the time of the report, rotation is being detected by the radar but may be considered weak and wasn't long lived.  The spin lasted only a few minutes and faded as the storm reached the Boone/Hamilton county line.
Hats off the the local law enforcement in Boone Co and along with the Indiana State Police for their spotting and tracking of the storm.  Eyes on the storm confirmed a tornado while harder to detect with radar imagery at the time!
Preliminary report from the Nation Weather Service is that the tornado was EF 1 damage with estimated 100 mph winds.  A complete survey will be available soon.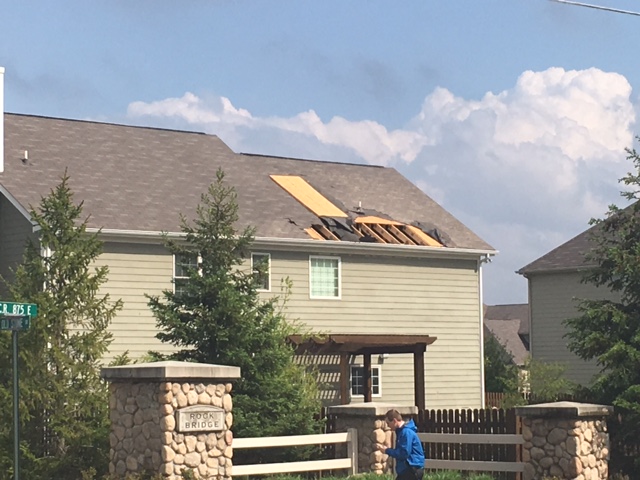 Additional storms produced golf ball size hail (1.5″ diameter) in Rushville and the same storm produced a funnel cloud in eastern Rush county.  Shorty before 5 PM and storm entering Wayne county produced a funnel cloud northwest of Richmond.