This is an archived article and the information in the article may be outdated. Please look at the time stamp on the story to see when it was last updated.
EARLY SEASON FRIGID AIR
The sun was out, that was a bonus but beyond that today was the coldest afternoon since last January 18 (13°).  This is very cold air for this early in the season, today's high of 13° is the coldest for the date (December 15) in 27 years and tied for 4th coldest ever.  The coldest December 15 high is 2° set in 1901.
WIND EASES
Bitter cold wind chill temperatures early Thursday morning will not return again on Friday.  While not in bargain territory with a chill near 0°, the gusty winds have eased.  Early Thursday the wind chill pushed 12 to 15 degrees below zero.  All wind chill advisories have been lifted but it will still be uncomfortably cold through early Friday morning.
SNOW CHANCE OVERNIGHT
Clouds have increased late Thursday as the first of two warm fronts develop and head toward Indiana.  A few snow showers are possible later tonight as the arctic air begins its retreat.  The clouds will prevent temperatures from tanking overnight but the trade off is the chance of snow late tonight and early Friday morning.  Stay tuned for updates and the potential for a few slick spots to open Friday.
WARM FRONT FRIDAY NIGHT
A secondary warm front will elevate temperature well beyond sunset Friday and also bring a new round of wintry weather with it.  A period of snow and or a combination of sleet and freezing rain is possible early Friday night before changing to light rain around 12 a.m.  The front will nudge the wintry mix north through the night with slick conditions developing over northern Indiana.  A winter weather advisory has been issued for a portion of northern Indiana.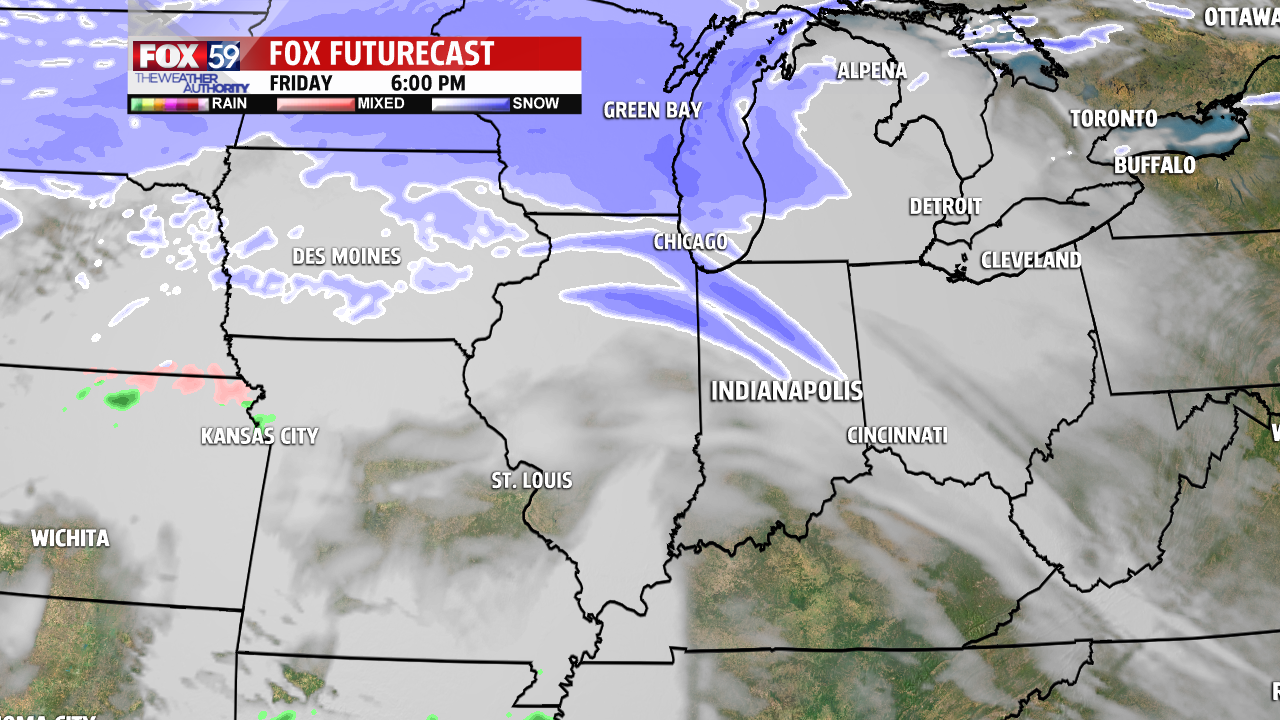 BUCKLE UP - A WILD RIDE AHEAD
We are forecast to be in the 'warm' sector of another weekend storm system which means the bulk of the precipitation will fall as liquid.  The wintry mix late Friday will change over to rain from south to north with the rain snow line pushing into northern Indiana.  South winds will increase and temperatures will climb sharply into Saturday morning.  Currently, we are forecasting temperatures to reach and possibly exceed the 50° mark early Saturday!  It will be very brief!
A new cold surge is in the works and will get underway rather quickly later Saturday afternoon.  The warm up ends abruptly as the first of two cold fronts surge south and sweep the state.
A wintry mix is possible early Saturday night then changing to snow that could accumulate by early Sunday.
Temperatures will plunge by Sunday morning and winds will increase.  Snow showers will linger as wind chill temperatures drop sharply.  By the time the weekend ends, we will be right back in the arctic air along with a wind chill approaching -10° to -15° by early Monday morning.