This is an archived article and the information in the article may be outdated. Please look at the time stamp on the story to see when it was last updated.
COLD TUESDAY MORNING
The last full day of Winter will be brisk and cool.  A second cold front will pass in the early morning hours shifting winds to the west and dropping temperatures down to the lower 20's by daybreak.  bundle up – the strong winds will produce a wind chill early in the lower teens to single digits north of the city.  While well below the normal high of 53° Tuesday we are expecting some sunshine!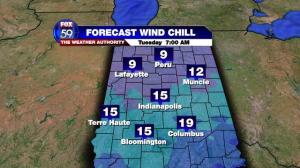 COLD PATTERN REACHES DAY 33
Since February 15th a cold pattern has locked in for most of the eastern U.S.  26 of the past 32 days have been below normal in this stretch (81%) and there is no sign of a let up.  A bubble of warm air has set up shop over the North Atlantic stretching into Greenland.  Known as a Greenland Block, cold air is forced south and takes up residence over southern Canada and the eastern U.S.  Long range forecasts say this pattern will not let up over the next 2.5 weeks!  Temperatures are expected to remain will below normal – a stunning 20° off the normal.  Here is break out of forecast high temperatures over the next 16 days.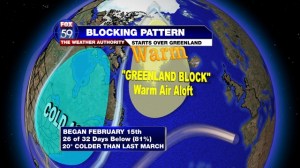 SPRING 2012 vs 2013 A COLD KNOCK OUT
From 30 degrees above normal to 20 degrees below.  Starting March 14 through the 21st in 2012 an amazing run of record warmth arrived in central Indiana.  7 out of 8 days broke records with high temperatures peaking at 84° on the 21st.  Spring started March 20th last year with a record high of 83° – we are forecasting a 50° difference for the start of Spring this year.  Currently forecasting a cold high of 34° (20° below normal)
NO LET UP COMING?
Temperature High From Normal Average high is 53° climbing to 58°
LAST 5 DAYS: -9°
DAYS: 1-5: -17°
DAYS: 6-10: -20°
DAYS 11-16: -19°