This is an archived article and the information in the article may be outdated. Please look at the time stamp on the story to see when it was last updated.
Indianapolis broke the above average high temperature streak yesterday with a high of 73°. The high yesterday tied our average for the date. Temperatures this afternoon will likely rise back into the upper 70s, which is four degrees above normal for May 19.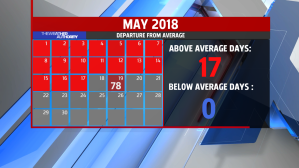 Much needed rain has arrived to central Indiana as well. Indianapolis received 0.55" of rain within the last 24 hours, making the total for the month 0.97". Rain totals are still trending below normal for the month of May, but there are going to be more opportunities for showers this weekend.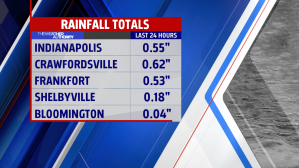 A low pressure system is going to travel over the state today, bringing central Indiana a few showers and cloud cover for Saturday. Skies will be mostly cloudy at the times it does not rain. If you are going to Bump Day at the IMS today, just have the rain gear on hand and keep an eye on the radar. Widespread showers are not expected today and forecast models are showing drier weather conditions for the evening hours. Highs will rise into the upper 70s and lower 80s.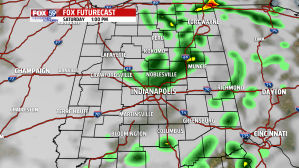 There are going to be several dry hours tonight before another wave of showers and thunderstorms move into central Indiana. Heavy downpours will be possible with the next round tomorrow morning.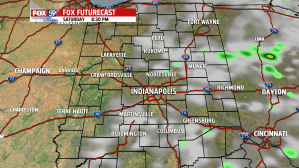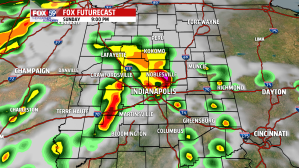 Dry time and partly sunny skies on Sunday will allow temperatures to rise back into the mid-80s tomorrow. More thunderstorms are going to move into Indiana during the late afternoon and evening hours. A couple storms may become strong and could produce gusty winds. Large hail and heavy rain will also be possible with this system.