This is an archived article and the information in the article may be outdated. Please look at the time stamp on the story to see when it was last updated.
FROSTY MORNING
Coldest morning of the season for the second morning in a row.  A few locations even dipped to the upper 20s in northeast Indiana early Thursday.  Many locations away from the city dipped below freezing.  The official low in the city was 37°.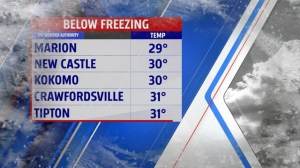 MILDER END TO THE WEEK
Clouds will hold temperatures up overnight – keeping most locations in the 40s, but these clouds will move on Friday.  A milder day is coming with high temperatures reaching the lower 60s.
INDIAN SUMMER ON THE WAY
A 70 degree day here Saturday as the upper air winds flow west originating from the pacific ocean, bating the nation in more milder air and severing ties to the colder northern branch of the jet stream.   A wind shift Saturday afternoon means a brief cool off Sunday before temperatures surges again into  70-s Monday and Tuesday.
HALLOWEEN 2014 – A 'TRICKY' FORECAST
IT'S ALIVE; the cold solutions for #Halloween have returned.  A chilling change that brings back to life a forecast 8 days ago.  Since the 15th of October, the outlook has gravitated to a warmer forecast, but the overnight computer runs have done an about face and are back onto the chill!  Stay tuned, this time of year daily forecasts at this distance can flip-flop from computer run to computer run.